DYN 2880
United States - California - Napa Valley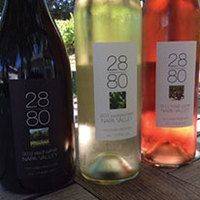 About us
The 2880 Story
In 2002, former teacher, former wine merchant and former wine importer/distributor, John-Kane-Hartnett, planted 300 vines in the backyard of his Napa Valley home. Today, the juice from those vines is the heart of 2880 Napa Valley Red Wine.
When people ask his wife Betsy, "Why 2880?" she tells them, "It's the number of minutes it took John to realize he didn't want our second date to end." John tells them, "It's our address." Either way, 2880 is a labor of love and a celebration of family and friends.
Why DYN? If you are familiar with the children's book, CDB, written and illustrated by William Steig and published in 1968, you may have already guessed the answer. DYN stands for dee-why-en as in "the wine".


| | NAME | VINTAGE | TYPE | APPELATION | PRICE (USD) | Award | |
| --- | --- | --- | --- | --- | --- | --- | --- |
| | Napa Valley Red | 2013 | | Napa Valley | $35.00 | | Info |
| | Napa Valley Sauvignon Blanc | 2014 | | Napa Valley | $18.00 | | Info |
| | Rosé | 2014 | Saignée of Syrah | Napa Valley | $18.00 | | Info |
LOCATION
GALLERY
DYN 2880
---
Contact with DYN 2880