Ata Rangi
New Zealand - Wellington - Martinborough Terrace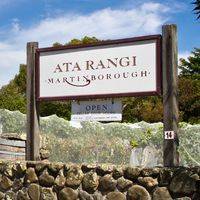 About us
Ata Rangi, meaning "dawn sky" or "new beginning" is a small New Zealand winery with an enviable international reputation for PInot Noir. Located at the southern end of the North Island, it is owned and managed by a family trio - Clive Paton, wife Phyll and Clive's sister Ali. Clive planted the first vines on a small, stony sheep paddock at the edge of the Martinborough village in 1980 as one of a handful of people who pioneered winegrowing in the area. Ata Rangi Pinot Noir is undoubtedly the flagship wine, and in 2010 was honoured with the inaugural Tipuranga Teitei o Aotearoa or "Grand Cru of New Zealand".
History
Phyll recalls: Ata Rangi was a small, stony sheep paddock when Clive bought it with a wad of cash from the sale of his herd of cows back in 1980. His farming mates thought he was mad; grapes were unheard of in the region. But Clive knew what he was in for. "I'd regularly skin my knees playing rugby there, so I knew exactly how stony the ground was." He'd developed a passion for red wine but couldn't afford 'the good stuff' so, in classic Kiwi-style, thought he'd have a go himself. Ali, Clive's sister, shared his vision and soon bought 5 acres next door before heading off shore to study and work in the London wine trade.
Martinborough was pretty basic in those days - gravel roads, two pubs, a grocery/farm-supply store, service station and a fish-n-chip shop. Clive's resolve was strengthened by a 1978 scientific report which showed Martinborough had a microclimate similar to that of Burgundy. It also had the driest and windiest climate in the North Island, was fringed to the north-east by a 25 metre deep, free-draining alluvial gravel terrace, and was only an hour from the lively capital city of Wellington.
The early days were tough. With no trees for shelter, young vines struggled against the howling nor-westers. Clive relied on the sale of pumpkins and garlic that he'd grown between the rows, and on family and friends who pitched in to help. He was also a solo Dad, raising young daughter Ness. Local farmer and mate of Clive's, John Stephen, put up cash to form an early partnership, keeping Ata Rangi afloat until the vines came into production. They also enlisted 100 'barrel share' investors, each of whom stumped up $50 (in a primitive en-primeur scheme) to fund the first barrels. By the time I ran into Clive in 1986 he'd just won his first Gold Medal, no small thanks to the legendary 'gumboot clone' of Pinot Noir. "Trust me" he said back then"Within ten years we'll be able to walk into the village and choose which cafe we'd like to go to." Though not entirely convinced, I threw in my Marlborough wine-making job and, in a leap of faith, bought John's share and moved north to join the family.
More than three decades later - backed by a string of awards and accolades - Ata Rangi is well established in 25 international markets and has an enviable reputation as one of the New World's most respected Pinot Noir producers. And Clive was right... Martinborough has transformed from a rural backwater to a laid-back, charmingly rustic wine village with a cluster of cafes, restaurants, quirky boutiques and a day-spa; a popular destination for wine-and-food lovers from all over the world, and a great escape from bustling city life.
Vineyard & Terroir
Soil health is our big focus. We're now certaified to fully organic status, after several years of transition. Weeds are now kept under control by a Berti Ecology under-vineweeder which means herbicides are a thing of the past. Insecticides have never been used in the 30+ years of vineyard management at Ata Rangi, instead favouring biological options such as predatory wasps for leaf roller caterpillar control. Large scale compost is made on site from winery 'waste' - grape stalks, skins, pips and yeast lees. Biodiversity, vital in maintaining balanced insect and bird populations, is encouraged with the use of mixed native shelter-belts and inter-row wildflower planting.
Ata Rangi harvests fruit from around 120 acres. Almost half of these vineyards are company owned; the rest are leased and local contract grower blocks. Sites are all very close together, and feature the characteristic Martinborough Terrace profile of about 30cm of shallow silt-loam on top of 25 metre-deep alluvial gravels. Rainfall is low here; an average of 700mm per year. With Martinborough's dry climate, high winds and free-draining profile, disease pressure is very low.
Huge effort goes into achieving balanced vines to consistently deliver ripe, well balanced fruit. Hand leaf plucking during summer ensures open canopies, and all grapes are hand-picked. Spring is often cool and windy which takes its toll on fruit set, so yields are naturally low - 1 T/acre to 2.5 T/acre tops for Pinot Noir (average 4 T/ha). The original vines are now well over 30 years of age, a factor in the wines ascending quality and consistency from year to year, as is the hands-on emphasis in the vineyard. For Pinot Noir, clones planted are Abel (the legendary Gumboot clone), Dijon 667, 777, 114 and 115, Pomard (aka Clone 5) and a smaller amount of 10/5. Most plants are on rootstock - typically 3309 or 101/14.
Ata Rangi is one of only a handful of ISO 14001 certified wineries in the world. This management standard, achieved over 15 years ago, calls for continual commitment to improve on practises which impact on the environment. We measure water, fuel and energy use, and challenge ourselves to find ways to reduce dependence on these resources. The vineyard and winery are also founding members of SWNZ (Sustainable Winegrowing of New Zealand) - a voluntary, industry-wide initiative developed to provide a 'best practice' model of environmental practices in both vineyard and winery.
At The Winery
Our Cellar Door operates year round – only closed on Christmas Day, Boxing Day, Good Friday and, this year, 8 December.
It's a small and intimate venue – actually our rustic, original winery from when we were starting out. It's lovely and cosy, but not particularly suited to large groups, especially over the summer. If you happen to turn up with a group larger than six, please forgive us if we cannot accommodate you, or suggest you come back at a less busy time.
However, if we can fit you in, we'd love to. Please get in contact in advance via cellardoor@atarangi.co.nz to discuss an appointment.
There is a $5 service charge per visitor, which will give you the personal service of one of our friendly and knowledgeable team in explaining our wines, our history and our region.
For larger groups up to 20, we may be able to structure a private tutored tasting outside of regular Cellar Door hours. Please contact us about it.
Cellar Door Hours: 1pm-3pm weekdays
12pm-4pm Saturday & Sunday
| | NAME | VINTAGE | TYPE | APPELATION | PRICE (USD) | Award | |
| --- | --- | --- | --- | --- | --- | --- | --- |
| | Célèbre | 2013 | Red Blend | Martinborough Terrace | NZ $40 | | Info |
| | Juliet | 2013 | Syrah | Martinborough Terrace | NZ $60 | | Info |
| | Ata Rangi Pinot Noir | 2013 | | Martinborough Terrace | NZ $75 | | Info |
| | Crimson | 2014 | Pinot Noir | Martinborough Terrace | NZ $36 | | Info |
| | Craighall Chardonnay | 2013 | | Martinborough Terrace | Sold Out | | Info |
| | Petrie Chardonnay | 2013 | | Wairarapa | NZ $28 | | Info |
| | Lismore Pinot Gris | 2014 | | Martinborough Terrace | NZ $28 | | Info |
| | Sauvignon Blanc | 2014 | | Martinborough Terrace | NZ $24 | | Info |
| | Summer Rosé | 2014 | | Martinborough | Sold Out | | Info |
| | Kahu | 2014 | Riesling | Martinborough Terrace | Sold Out | | Info |
| | Craighall Riesling | 2010 | | Martinborough Terrace | NZ $38 | | Info |
| | Syrah | 2010 | | Martinborough Terrace | NZ $48 | | Info |
LOCATION
OPENING HOURS
| | |
| --- | --- |
| Monday | 1pm - 3pm |
| Tuesday | 1pm - 3pm |
| Wednesday | 1pm - 3pm |
| Thursday | 1pm - 3pm |
| Friday | 1pm - 3pm |
| Saturday | 12pm - 4pm |
| Sunday | 12pm - 4pm |
| Particular days | Public Holidays 12pm-4pm |
FIND OUR WINES
Importers
Australia
New Zealand
United Kingdom
United States
Ata Rangi
---
Contact with Ata Rangi