History
La Rioja is a province in Spain, located in the north of the Iberian Peninsula with its capital Logroño. It covers part of the Ebro valley to the north and the Iberian Mountain System in the south. It borders the Basque Country (province of Álava) to the north, Navarre to the northeast, Aragón to the southeast (province of Zaragoza), and Castilla y León to the west and south (provinces of Burgos and Soria).
Although its origins date back as early as 1102, when King Sancho of Navarra legally recognized the Rioja wines, it was not until the 17th century that the first document making reference to the protection and quality assurance of Rioja wines appeared.
From the 16th century onwards, Rioja's wine production developed steadily. In 1787 the Royal Economic Society Rioja Growers was created to promote the cultivation of vines, wine production and trade development.
La Rioja enjoyed a major development in the late 19th century, when France and Italy were devastated by phylloxera.
Rioja was the very first Spanish region to be awarded DO status, back in 1933.
Climate and subregions
The region is protected from the cold and wet influence of the Atlantic Ocean by the range of the Cantabrian Mountains located just along its north and west borders. Thanks to these mountains the weather is significantly warmer and drier there than on the other side of the range in Cantabria.
The region is composed of three subzones: Rioja Alta, Rioja Alavesa and Rioja Baja.
Rioja Alta is in the west part on relatively high ground with steep, rugged relief, Rioja Alavesa, in the Basque part, is quite similar, mainly clay and limestone soils, perfect for Tempranillo. Rioja Baja is more geologically speaking, with a low relief, flat terrains, warmer weather, better for Grenache and young wines.
Varieties
The grape varieties that are currently authorized by the Regulations of the D. O. Ca. Rioja are:
Red: Tempranillo, Garnacha, Graciano, Mazuelo y Maturana Tinta.

White: Viura, Malvasía, Garnacha Blanca, Tempranillo Blanco, Maturana Blanca, Turruntés, Chardonnay, Sauvignon Blanc y Verdejo.
Tempranillo is the main and iconic variety, representing 75% the vineyards. The grape is native to Rioja. It is very versatile from an oenological viewpoint, it supports long ageing in barrels, with a good balance of alcohol content, color and acidity, keeping a smooth, fruity mouthfeel getting even softer with age.
Top end reds from Rioja used to mature in new American oak barrels. More and more wineries use now a mix of American and French oak. Virgin oak can give Rioja wines their distinctive notes of coconut, vanilla and sweet spice.
The amount of time that a Rioja wine spends in barrel qualifies which of the official Rioja ageing categories goes on the label: Joven, Crianza, Reserva or Gran Reserva:
Rioja Joven wines, which are intended for consumption within two years of vintage, spend little or no time in oak.

Rioja Crianza wines are aged for one year in barrel, and one year in bottle.

Rioja Reserva wines spend a minimum of one year in barrel, and cannot be sent to market until a full three years after vintage.

Rioja Gran Reserva wines undergo a total of five years' aging, of which at least two years is spent in barrel.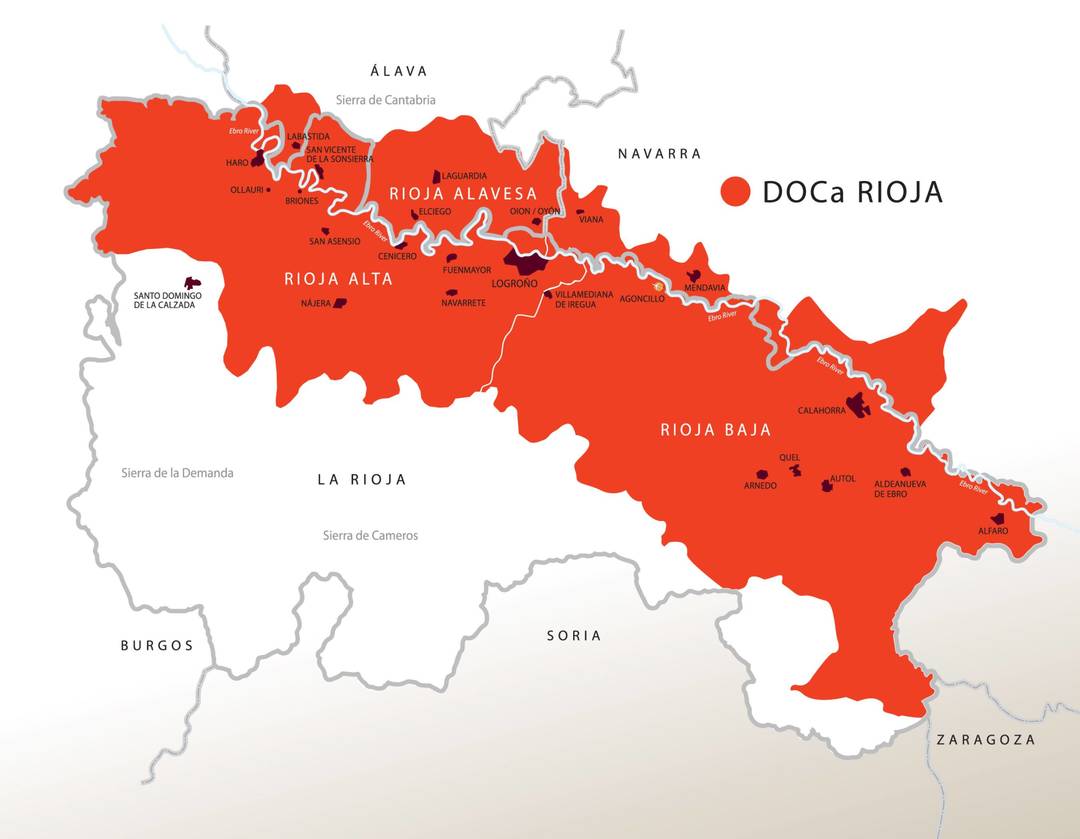 Courtesy of Cuna de Reyes : vineyards.com/cuna-de-reyes