Wine map regions of Greece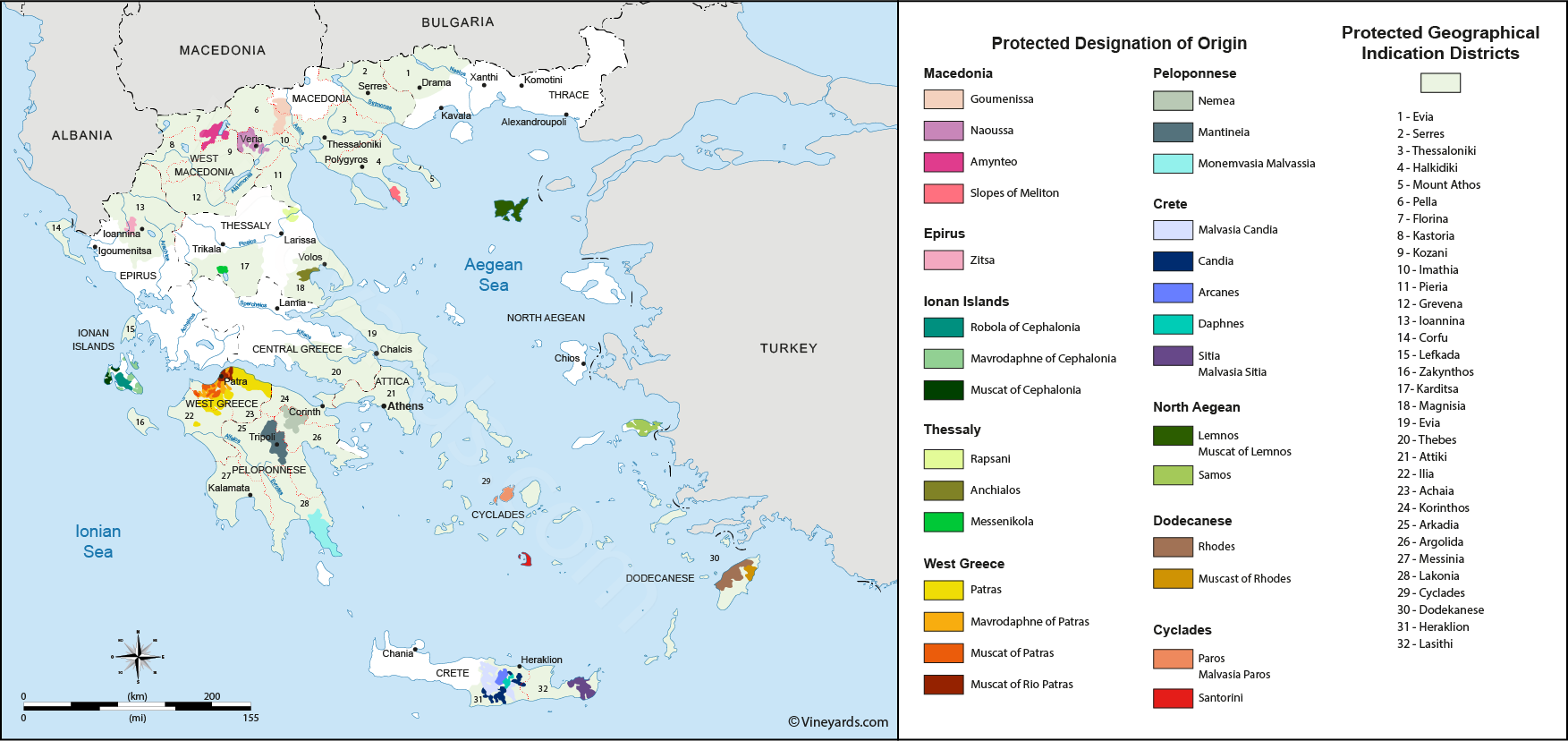 The vineyards of Greece
North of Greece
In Macedonia, mainly red wines are being produced from the Xinomavro grape variety, the Naoussa was the first appellation created in1971 followed by the Goumenissa and the Amynteo appellations.
In the Epirus region, Zitsa is the unique appellation with white wines being made mainly from the Debina grape and red wines from the Rapsáni variety.
Attica, close to Athens, is known for its historical Retsina but a growing number of new unresinated wines are now made in the region.
The Greek Islands
The Ionan Islands propose interesting wines in the appellations of Robola of Cephonia, Mavrodaphne of Cephalonia and Muscat of Cephalonia. The main local grape varieties are the Avgoustiatis for red wines and Robola and Tsaoussi for fresh white wines.
The Aegean Islands with Lemnos, Muscat of Lemnos, Samos, Paros, Malvasia of Paros and Santorini making sweet and dry white wines from Muscat Blanc and a variety of wines from local grapes from Avgoustiatis to Robola, Tsaoussi, Monemvassia, Mandilaria, Athiri and Assyrtiko (Santorini).
Crete has the largest vineyard of the greek islands with the appellations Malvasia Candia, Candia, Arcanes, Daphnes and Sitia Malvasia Sitia with a representation of local grapes like Lyrarakis, Vidiano, Plyto and Dafni.
Rhodes island with its Rhodes and Muscat of Rhodes appellations is known for still and sparkling white wines from local grapes like Athiri.
The Peloponnese peninsula
The large Nemea appellation is in the east offering a variety of terroirs. A well represented grape there is the Agiorgitiko variety. Pátras in the north has white wine producing vineyards with the appellations Mavrodaphne of Patras, Muscat of Patras and Muscat of Rio Patras. The Roditis and the Sideritis are among the interesting local varieties there. The Mantinela plateau in the south is home of the Moschofilero grape and the new Monemvasla Malvasia appellation.