Wendy Lawson
Australia - New South Wales - hunter valley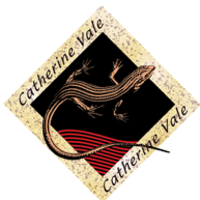 About us
atherine Vale is located in the Hunter Valley/ cross out Wollombi Valley near the town of Broke. As the name implies, it is a beautiful place located in Wollombi Valley within a river valley, remembering the assertiveness of Catherine Lyndsay Hayden, Bill's Aunt. The property is spectacularly located in the lee of the Hunter Range and borders Yengo National Park which forms the backdrop of the Cellar door. One hundred and eighty degree views including "Yellow Rock" impress most visitors to Catherine Vale. This outlook will give you an instant emotional attachment to the environment, and is why we call it our beautiful spot.
History
Catherine Vale is a 40.52 hectare (100 acre) property with 10 acres of grapes. The property has a large portion of the grapes with the main species being Iron Bark and Bulga Wattle, with much understory.
Bill and Wendy have built everything from scratch, a task not tackled by many grapegrowers on their own. Bare paddocks had to be cleared of rocks and boulders, irrigation lines and wires were installed by them and the vineyard slowly took shape. The end posts were sourced from wooded areas of the 100 acre property and treated pine intermediate posts were all pounded in by Bill with an old belt driven post pounder.
When the Uniting Church Manse in Singleton came up for removal, Bill and Wendy decided to put in a tender and their tender was accepted. With great excitement and much effort, the historic residence was moved to Catherine Vale and restoration began. Now, after nearly 20 years, it is almost complete. The manse was 100 years old in 2014 and is truly Wendy's baby and a source of pride and joy.
It was always the intention to have a Cellar Door to match the manse and with many country churches up for sale, it was hoped to use one of these. Bill and Wendy looked at many such churches but all were in the 'too hard to move' category. So they decided to build their own purpose built Cellar Door in the style of an Australian country church. The building was officially opened mid 2004.
The Grapes
At Catherine Vale we grow the iconic Hunter Varieties: Semillon, Chardonnay and Verdelho. Original planting of 8 acres in 1993 included Semillon and Chardonnay. Verdelho was grafted onto existing Semillon vines in 2002.
The connection to Italy and the Piedmont grape growing region of Italy began with the planting of Barbera and Dolcetto in 1998. Catherine Vale remains the Hunter Valleys only grower of Dolcetto to this date.
"Arneis" Italy's little Rascal was grafted onto existing Chardonnay vines in 2008. It also originates from the Piedmont Region of Italy.
The Wine
In 1997, Bill and Wendy produced their first wine under the Catherine Vale label. The wine was made by John Hordern in the old milk factory in Muswellbrook. John has made all our wines since then and the milk factory is now a substantial winery known as Hunter Wine Services.
The 2016 vintage was our 20th vintage of our original wines Semillon, Chardonnay and a Semillon Chardonnay. Over the years we have added to our offering with Verdelho, Arneis, Barbera and Dolcetto, plus our dessert wines Madeira and Late Harvest Semillon.
Having initially planted only the two white varieties Semillon and Chardonnay, and having produced such good wines out of them, our customers would say 'if you can produce such good white wine, where are your reds?' This led Wendy to research alternative varieties. She discovered there was an oversupply of Shiraz by big Hunter Valley producers and the soil in this area, with a couple of exceptions, did not produce top Hunter Valley Shiraz. Her research eventually came up with the alternative Italian varieties Dolcetto and Barbera. This led us to take the lead in Hunter Valley production of alternative varieties and proved an inspirational decision as the decline in the market set in and wine drinkers sought new varieties.
In 2006 Bill and Wendy undertook a tour of the Piedmont region of Italy where their chosen varieties originated. They stayed near Alba at a vineyard and winery called Ada Nada and spoke with local winemakers who tasted samples of their reds, which they had brought along. They were chuffed to find the Italian winemakers were impressed with their efforts.
On several of their winery visits in the area, they found plantings of an Italian white grape Arneis. This variety has an interesting history and they were so impressed they were determined to grow this white as an addition to their alternative varieties. This has subsequently been done and has proved an inspired choice.
Vineyard & Terroir
Much research went into the selection of our vines and rootstocks.
Semillon- two clones of Semillon were grafted onto 2 different rootstocks. The Tyrrells and Drayton Semillon clones were selected from great numbers of clones as these two were recorded as the best for Hunter Valley production. Rootstock selection was more difficult and the varieties selected were K51-32 and T 5C . All replants were replaced with Ramsey rootstocks on the advice of our consultant Graham Doran the then vineyard manager of McWilliams.
Chardonnay – One clone of chardonnay was selected and bench grafted onto 3 rootstocks. These are K51-32 , T5C and Schwartzman. The 3 different rootstocks were selected due to the differing soil types in the vineyard with expected differing growing results.
The trellis system used is VSP(Vertical Shoot Position)
At The Winery
The Cellar Door building designed by Brett Cronan from Maitland is in the style of an Australian country church. This is in keeping with the Lawson family residence (the former Edwardian style Uniting Church Manse) moved from No 1 Church Street Singleton in 1993. "The Church and the Manse" will be a spectacular addition to your wine tasting agenda.
The Anderson Room
Inside the Cellar Door you will enjoy the ambience of the Anderson Room our spectacular wine tasting facility. Apart from tasting the wines you can enjoy sweeping views of the Broke Fordwich area and perhaps take in one of the art exhibitions featuring local artists which are a regular feature. You can download our wine tasting booklet below.
The Anderson Room is ideal for small (up to 50 persons) private functions, weddings and conferences by arrangement. The building boasts a full commercial kitchen with several catering options. Contact Wendy for information.
Room1
room2
Kindly download Wine Tasting Booklet and Venue Flye
Our Wine Club
Catherine Vale's Wine Club is open to persons interested in our story and evolution. New "friends" can join with a single purchase .
Friends Incentives:
Quarterly newsletter sent by mail chimp
Members receive a 20% discount on purchases
Free Delivery of Wine to anywhere in Australia
Invitation to annual event in March and future events designed for customers
Notifications about other events
Special members tastings can be organized with booking made in advance.
Press & Awards
The 2014 vintage release consisted of 5 wines as no Barbera from 2013 was produced. You may select either a six pack or a case. The six pack will include a Barbera 2012 and the case will include both a 2012 Barbera and the 2011 Barbera which is in short supply. Please check the individual [...]
LOCATION
GALLERY
Wendy Lawson
---
Contact with Wendy Lawson