Weingut Bergdolt-Reif & Nett
Germany - Rheinland-Pfalz - Pfalz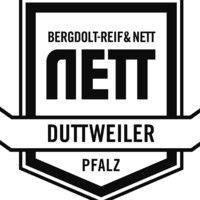 About us
"Each wine and each vintage has its own personality, its own character and its own history." Duttweiler, a small wine village, situated in the heart of the Palatine between the cities of Speyer am Rhein and Neustadt an der Weinstrasse (the German Wine Street), is home to our winery and vineyards. The foundations of which were laid in 1838 with the construction of our vaulted sandstone cellars.Following an inheritance settlement in 1900 and through subsequent adoption and marriage, the Winery & Estate, now in its 5th generation, is run by the Nett Family.
Situated 120 – 140m above sea level our cultivated vines are to be found nestled in a Mediterranean like landscape, where ripening kiwi, fig, almond and chestnut are to be found. It is with over 10m of potent loess and clay soils with fine vein lines of lime which sets the character of our wine.
Vineyard & Terroir
Our Philosophy
We work together and in harmony with nature; nature being our biggest asset; with nature dictating the timing of our work throughout the year, particularly in our vineyards. Our biggest challenge lies in our vineyards, in bringing out the full potential and individuality of every single vineyard block.
New Ways
"We have made our quality wines even more powerful - by exactly 1 hp." Tradition may also be progressive! In 2011 we began a working method again, as did our oldest partner the Heinz Bergdolt-Reif at the start of his working career, namely "Horsepower". We now manage some of our best vineyards exclusively with horsepower. Why do we do what we do? Because this traditional method loosens the earth, allowing the soil to breathe. This delivers a higher quality to the grape and character to the wine.
Cold blooded but heart warming As original and traditional as the husbandary method is the animal itself, the horse working in our vineyards- Vicky - is a Rheinish-German Cold-Blood. You are cordially invited to see for yourself, so as to get an idea of how he moves and works through our vineyards. You'll enjoy the touch of the "good old days" - and the spicy scent of a healthy and vibrant soil.
At The Winery
In our cellars tranquillity and reserve rule – we allow our wine the pleasure of time - from the gentle pressing of the grape, to the restrained fermentation of the most (maceration) and the gentle aging storage of the young wine, through to final bottling.
LOCATION
Weingut Bergdolt-Reif & Nett
---
Contact with Weingut Bergdolt-Reif & Nett