Viñedos y Bodegas Asensio Carcelén
Spain - Murcia - D.O.P. Jumilla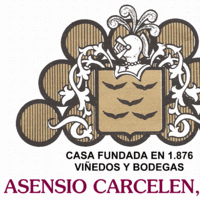 About us
The main activity of Asensio Carcelén winery has always been the production of Jumilla D.O. wines in all its forms, but mainly bottled ones, and its national and international commercialisation.
History
Viñedos y bodegas Asensio Carcelén, NCR, comenzaron su andadura como una bodega gracias a D. Asensio Carcelén Herrero en el último período del siglo XIX, experimentó un gran auge industrial y económica debido a su sucesor, D. Juan Carcelén Herrero, que empezó introducir embotellado en los vinos que elabora. Después de su retiro, su hijo D. Asensio Carcelén Cutillas tomó el control de la bodega y centró su trabajo en la exportación, la transformación de la bodega Asensio Carcelén en una de las mejores empresas del sector.

Vineyard & Terroir
Its annual production is estimated to be around 500.000 Kg of grapes within its 300Ha of own vineyards, dry land cultivated, traditional globet pruned, and integrated in organic agriculture. The main variety used is Monastrell with a 90% of production, followed by Syrah and Garnacha Tinta with a 5% of production each one.
At The Winery
Since 2006, in order to improve its industrial activity, the winery was located next to its own vineyard, adapting to the times, to new technology and implanting new winemaking processes, quality controls and environmental adequacy. At the end of 2011 the winery obtained all the certification needed to start to produce organic wine.
| | NAME | VINTAGE | TYPE | APPELATION | PRICE (USD) | Award | |
| --- | --- | --- | --- | --- | --- | --- | --- |
| | Pura Sangre Gran Reserva 2009 | 2009 | Dry red wine 2009 Gran Reserva. Cepage: Monastrell grape 100% 16,50% Vol. Late Harvest Four years ageing in oak. | D.O.P. Jumilla | 8€ | | Info |
| | 100X100 Jumilla Monastrell Organic 2014 | 2014 | Organic dry red wine 2014 Four Full Moons Cepage: Monastrell grape 100% 15,50% Vol. Mid-Harvest Malolactic Fermentation in French Oak | D.O.P. Jumilla | 6€ | | Info |
| | 100X100 Jumilla Syrah Organic 2015 | 2015 | Organic dry red wine 2015 Cepage: Syrah grape 100% 14,5% Vol. Early harvest. | D.O.P. Jumilla | 5€ | | Info |
LOCATION
OPENING HOURS
| | |
| --- | --- |
| Monday | 9-13h y 15-19h |
| Tuesday | 9-13h y 15-19h |
| Wednesday | 9-13h y 15-19h |
| Thursday | 9-13h y 15-19h |
| Friday | 9-13h y 15-19h |
Viñedos y Bodegas Asensio Carcelén
---
Contact with Viñedos y Bodegas Asensio Carcelén