The Hess Collection
United States - California - Napa Valley/Mount Veeder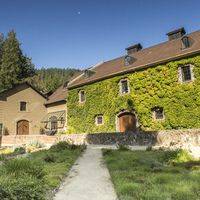 4411 Redwood Road, Napa , 94965
About us
The Hess Collection winery offers current release tastings at our tasting bar daily. We recommend a reservation however walk-ins are welcome based on availability. For an Exclusive Experience, we offer private wine tastings by appointment, Tour of the Palate with recipes prepared by our Executive Chef Chad Hendrickson, Wine & Chocolate Experience, Wine & Cheese Experience, Vineyard Tour and Museum Walk. We welcome groups over six and ask that you contact the winery's guest relations staff at 707.255.1144 x226 to make a reservation. The Hess Collection Contemporary Art Museum, featuring works from the private collection of proprietor Donald Hess, is open daily 10:00am to 5:30pm, without charge.
History
Donald Hess
, founder of The Hess Collections, became interested in mountain winegrowing during a business trip to the Napa Valley in the mid‐1970's. With further research, he found that Mount Veeder mountain vineyards had the ideal combination of soils and microclimates to produce grapes of distinctive character and flavor. This venture became The Hess Collection where the appreciation for unique mountain and valley fruit is expressed through artfully crafted wines.
Vineyard & Terroir
The Hess Collection's artisan crafted wines begin in our vineyards.
Our Veeder Summit Vineyard is our highest vineyard and is planted to the three Musqué clones that thrive in the cooler mountain climate, which helps preserve the wine's natural aromatics and bright acidity. The cooling marine influences of the San Francisco Bay and cool afternoon breezes result in daytime temperatures that are an average of 5 to 10 degrees lower than the valley floor, with slightly warmer nights as the cooler air sinks to lower elevations. These vineyards tend to be above both the fog and frost lines.
To accommodate the steep mountain slopes of our Veeder Hills Vineyards, the vines at this site are planted to ridges. We carefully seek out areas with thin soils so the vines are forced to struggle, producing lighter yields with small, intensely flavored berries. We avoid planting in shaded areas to ensure the vines have the best possible exposure to sunlight during the day to achieve optimal ripeness.
Situated fewer than 10 miles from San Pablo Bay, the cooling marine influence on our Su'skol Vineyard is profound. Morning fog and afternoon breezes lower the average daily temperature, creating an ideal climate for growing Chardonnay.
Our Allomi Vineyard is located on the eastern base of Howell Mountain in one of the more remote areas of Napa County, Pope Valley. The combination of a long, warm growing season and well-drained soils creates optimal ripening conditions.
Winemaking & Aging
Our Director of Winemaking, Dave Guffy, sums up our hands-on approach to winemaking, "I learned very early that I have to walk the vines year-round. During harvest, I continually taste grapes to keep an eye on the maturity of flavors and tannins to ensure the best expression of a particular vineyard." Our talented team of winemakers believe in our philosophy, "Nurture the land and return what you take." This philosophy brings with it a dedication to delivering wines that speak to their natural origins. The wines cultivated at The Hess Collection follow the dictates of the Napa Green certified land and winery programs, as well as the California Sustainable Winegrowing Alliance "Code of Sustainable Winegrowing", both third-party certification programs with significant oversight. The Hess Collection has been at the forefront of the green movement for many years.
At The Winery
Our
sustainable practice
is not only practiced in the vineyards but at the winery. We focus on reducing our carbon footprint, recycling, water conservation and energy use. Our
product packaging
is made from recycled paper and is environmentally friendly, inks used for our labels are water-based, our bottles are made with a percentage of recycled glass and are light-weighted, and we use natural corks and tin capsules that are recyclable.
LOCATION
The Hess Collection
---
Contact with The Hess Collection