Sainte-Famille Wines Ltd
Canada - Quebec - 100% Nova Scotian WIne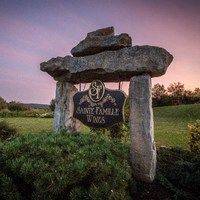 11 Dudley Park Lane, Falmouth , B0P 1L0
About us
Sainte-Famille is the oldest family run winery in Nova Scotia, located in Falmouth, just south of the Bay of Fundy. We invite you to grab a glass and enjoy our patio views, one perched on the edge of our lush vineyard, the other facing a spectacular view of the Avon Valley and our local ski hill, Ski Martock.
History
Owners; Sue and Doug Corkum have been growing grapes for over 35 years and producing award winning wines for over 25 years. They reside on a property adjacent to the vineyard, Sue continues to offer tours of her vineyard, and Doug can often be found at local markets with some of their outstanding wines.
Vineyard & Terroir
Sainte-Famille is one of the warmest vineyard sites in Nova Scotia, resulting in rich full bodied reds, and whites with exceptional character.
Winemaking & Aging
All our wines are crafted by award winning wine maker Tony Barkhouse.
We are a proud producer of Tidal Bay, the signature white wine of Nova Scotia. This wine brilliantly reflects the terroir, coastal breezes and cooler climates of Nova Scotia.
At The Winery
Sainte-Famille offers daily tours at 10 am and 2 pm. We also offer tastings throughout the day in our retail shop. Feel free to grab a glass and enjoy our patio or stroll through our vineyard.
We also have a venue that is perfect for a variety of functions, especially weddings!
Press & Awards
Sainte-Famille is the 2012 Winery of the Year
Continues to medal every year at the Atlantic Canada Wine Awards
LOCATION
OPENING HOURS
| | |
| --- | --- |
| Monday | 9:00 am - 5:00 pm |
| Tuesday | 9:00 am - 5:00 pm |
| Wednesday | 9:00 am - 5:00 pm |
| Thursday | 9:00 am - 5:00 pm |
| Friday | 9:00 am - 5:00 pm |
| Saturday | 9:00 am - 5:00 pm |
| Sunday | 11:00 am - 5:00 pm |
Press & Awards
Sainte-Famille is the 2012 Winery of the Year
Continues to medal every year at the Atlantic Canada Wine Awards
GALLERY
Sainte-Famille Wines Ltd
---
Contact with Sainte-Famille Wines Ltd