Reichsrat von Buhl
Germany - Rheinland-Pfalz - Pfalz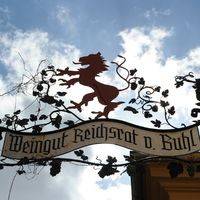 About us
Reichsrat von Buhl is one of Germany's iconic estates. Founded in 1849, Reichsrat von Buhl's Rieslings soon became famous for their uncompromising quality and longevity. Starting with vintage 2013, Reichsrat von Buhl was handed back to the family after a 24 year lease and they are up for big changes.
History
When the late Andreas Jordan, owner of the winery Jordan in Deidesheim passed away in 1848, he passed the family estate on to his only son Ludwig Andreas. Ludwig Andreas' sisters Josefine and Margarete both received vineyards and founded new wineries with their husbands: Franz Peter Buhl (later renamed to Reichsrat von Buhl) und Friedrich Georg Deinhard (now known as von Winning). Franz peter Buhl was soon recognized as an outstanding winemaker and his wines became world famous. When the Suez channel was opened in 1869, a Riesling from Reichsrat von Buhl was served at the official opening ceremony in Egypt. It was Franz Peter's son Armand, though, who gave Reichsrat von Buhl the most precious thing a winery can have: world class vineyards. By marrying the daughter of a wealthy wine producer from Forst, Armand doubled the size of vineyards owned by the von Buhl estate to more than 100 hectares. The winery flourished and and the reputation grew. When the last von Buhl family member Frieda Piper died, she passed the estate over to a friend of her late husband, Georg Enoch von und zu Guttenberg. The von und zu Guttenberg family were not really interested in wine and sold half of the vineyards over the years – but never premier cru or grand cru vineyards. For this reason, Reichsrat von Buhl has such an unusually high percentage of classified vineyards: 50 percent.
It was the conductor Enoch von und zu Guttenberg who leased the winery in 1989 to a Japanese business man, Toyohiro Tokuoka, who started to invest into the winery and the vineyards and slowly brought the name Reichsrat von Buhl back to life. During the lease, the von Guttenberg family sold the winery to local businessman Achim Niederberger in 2005, owner of Bassermann-Jordan and as of 2007 von Winning. The original lease contract continued till December 31st 2013, but the new team, established by the Niederberger family, was already responsible for vintage 2013. Unfortunately Achim Niederberger passed away in July 2013 and he never got to taste the first vintage from Reichsrat von Buhl made by his team. The new Managing Director of the estate, Richard Grosche, has kept the entire vineyard team but had some changes in the cellar: Mathieu Kauffmann, former chef de cave at Champagne Bollinger, arrived in Deidesheim just in time for the harvest and has vinified his first vintage as Technical director and chief winemaker of Reichsrat von Buhl. A new chapter has begun at Reichsrat von Buhl.
LOCATION
GALLERY
Reichsrat von Buhl
---
Contact with Reichsrat von Buhl