Quinta Santa Eufémia
Portugal - Viseu - Douro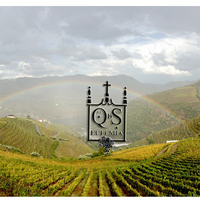 About us
Situated on the left side of the river Douro, with over 50 hectares under vines, the vineyard produces grapes of the richest varieties, trodden in the traditional way and fermented on granite vats in order to extract their finest essences.The wine is aged in oak casks before being selectively blended to satisfy the most refined palates.
History
Where are our vineyards (Vale do Conde and Eirados) and our cellar, we find Roman remains dated from the first century. They were the ones who started the wine production.
Our family came to the Douro in the 17th century but it is our great-grandfather Bernardo Rodrigues de Carvalho who in 1864 started a process of growth and acquisition of vineyards and production of the Port Quinta Santa Eufemia
Vineyard & Terroir
Douro Valley the oldest demarcated region in the world, since 1756.
Winemaking & Aging
All the Ports and Douros from Quinta Santa Eufemia are from our vineyards, we didn´t buy grapes or wines.
Our grapes are planted in sustainable production.
Thr Vintage Port is trodden in LAGARES of granit

Our Wine Club
In our Cellar in Vila Nova de Gaia, Rua Santa Marinha 77
open all the days 11h to 19h
Possible to do tastings and buy ours Ports & Douro Wines

Press & Awards
Decanter
Concours Mondial Bruxelles
Berliner Wine Trophy

International Wine Challenge
Challenge Vin Bordeaux
IWSC
Wine Enthusiast

| | NAME | VINTAGE | TYPE | APPELATION | PRICE (USD) | Award | |
| --- | --- | --- | --- | --- | --- | --- | --- |
| | VINTAGE PORT 2015 | 2015 | Port Wine | Port & Douro | 45€ | | Info |
| | Late Bottled Vintage 2013 | 2013 | Port Wine | Port & Douro | 14€ | | Info |
| | White Port 10 Years | 2008 | Port Wine | Port & Douro | 15€ | | Info |
| | White Port 20 Years | 1998 | Port Wine | Port & Douro | 25€ | | Info |
| | White Port 30 Years | 1988 | Port Wine | Port & Douro | 46€ | | Info |
| | Port Colheita 2006 | 2006 | Port Wine | Port & Douro | 21€ | | Info |
| | VINTAGE PORT 2014 | 2014 | Port Wine | Port & Douro | 35€ | | Info |
| | Tawny 10 Years Port | 2008 | Port Wine | Port & Douro | 16€ | | Info |
| | Tawny 30 Years Port | 1988 | Port Wine | Port & Douro | 75€ | | Info |
LOCATION
OPENING HOURS
| | |
| --- | --- |
| Monday | 9h to 17h |
| Tuesday | 9h to 17h |
| Wednesday | 9h to 17h |
| Thursday | 9h to 17h |
| Friday | 9h to 17h |
| Saturday | 14h to 17h |
| Sunday | 14h to 17h |
| Particular days | Our Cellar in Vila Nova de Gaia, Rua Santa Marinha 77 open all the days 10h to 20h |
Our Wine Club
In our Cellar in Vila Nova de Gaia, Rua Santa Marinha 77
open all the days 11h to 19h
Possible to do tastings and buy ours Ports & Douro Wines

Press & Awards
Decanter
Concours Mondial Bruxelles
Berliner Wine Trophy

International Wine Challenge
Challenge Vin Bordeaux
IWSC
Wine Enthusiast

FIND OUR WINES
Tasting rooms
Portugal
Cave Quinta Santa Eufémia
Rua Santa Marinha, 77
Vila Nova Gaia, Vila Nova Gaia, Portugal
Quinta Santa Eufémia
Quinta Santa Eufémia
Parada do Bispo, Viseu, Portugal
Shops
Portugal
Quinta Santa Eufémia
Quinta Santa Eufémia
Parada do Bispo, Viseu, Portugal
Cave Quinta Santa Eufémia
Rua Santa Marinha, 77
Vila Nova Gaia, Vila Nova Gaia, Portugal
Quinta Santa Eufémia
---
Contact with Quinta Santa Eufémia