Quinta de Covela
Portugal - Distrito do Porto - Vinho Verde DOC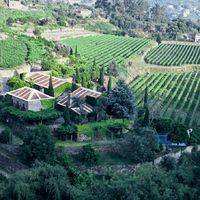 Quinta de Covela - São Tomé de Covelas, São Tomé de Covelas , 4640-211
About us
Quinta de Covela is located in the southeast corner of the Vinho Verde region, just close to the beginning of the Douro region. We produce especially white and rosé wines, we farm organically, and the methods in the cellar are also BIO oriented. Our wines are classical style, some 100% varietals, like the Edição Nacional 100% Avesso, or blends from native grapes and international as well.
History
Quinta de Covela is a property from the XVI century. It began as a traditional farm, with several different cultures, and in the mid 50's of the 20th century was property of one of the most famous film makers in Europe, Manoel de Oliveira. With him much of the landscape in Covela changed, with new constructions, In the final of the 80's, the property was bought by the entrepreneur Nuno Araújo, that started to plant the first vines oriented for a quality wine production. The brand Covela was launched in the mid 90's, being one of the most innovative and creative of this region, but also of all the portuguese producers panorama. After some financial difficulties, in 2007, the property was part of a bank real estate. In 2011 finally the team Tony Smith and Marcelo Lima, two good friends and wine lovers, bought the property and restarted the brand. The old farm and wine-making team was hired back, to "reboot" the project and to add some new things as well.
Vineyard & Terroir
Most of the vineyards are south facing, very near the river Douro, at a very low altitude. The soil is mainly granitic. The farming is organic, as we believe that this will bring us more quality and purity to the wines.
At The Winery
The winery is small but very efficient. We have stainless steal vat's that we use for the less complex wines, and also barrels that we use for our Reservas. We try to be the less aggressive we can to the wines, which means the filtration is very simple and without any chemicals.
Press & Awards
Quinta de Covela vineyards were awarded with the portuguese "oscar" of the best viticulture in 2013, by the most recognized magazine "Revista de Vinhos", and our Avesso was awarded for several times as one of the 100 best of the year. In Mundus Vini Biofach, our Escolha Branco was awarded with a Gold Medal for the 2012 vintage.
| | NAME | VINTAGE | TYPE | APPELATION | PRICE (USD) | Award | |
| --- | --- | --- | --- | --- | --- | --- | --- |
| | Covela Edição Nacional Avesso | 2014 | White | Vinho Verde DOC | EXW 4 - 5 € | | Info |
LOCATION
GALLERY
Quinta de Covela
---
Contact with Quinta de Covela