POOLEY WINES
Australia - Tasmania - Coal River Valley, Tasmania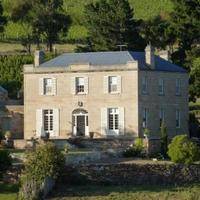 About us
Pooley Wines is a five star rated multi award winning Tasmanian family winery located in the heart of the famous Tasmanian wine producing region of the Coal River Valley. Pooley Wines is recognised as a leading producer of premium cool climate wines and hosts the Gourmet Traveller WINE Magazines "Best Small Cellar Door" for Southern Tasmania (2014 and 2015) in the idyllic Georgian sandstone estate in Richmond.
The historical property and two separate vineyards in the Coal River Valley have built a reputation for the production and quality of cool-climate wines such as Pinot Noir, Chardonnay and world class Riesling. These award winning wines are available through our cellar door at the historic Butchers Hill Vineyard in Richmond, by mail order through this web site, or from selected suppliers and exclusive restaurants.
Members of the Pooley family have been actively involved in the business for three generations with their longstanding passion and commitment to fine wine being your assurance of uncompromising quality. It is this enthusiasm and love towards wine making that has created their mantra 'Perfection is our passion" – a mantra that is shared and practiced by all staff across the business today. They are proud to be recognised for their environmental approach to wine making by becoming the first and only fully credited environmentally sustainable vineyards in Tasmania.
History
Pooley Wines was established in 1985 when the late Denis and Margaret Pooley planted ten rows of Riesling and seven rows of Pinot Noir on their 16-hectare farm at Cooinda Vale in the Coal River Valley in southern Tasmania.

Today, after more than 20 years of producing premium quality cool-climate wines, and having been awarded numerous trophies and medals at prestigious wine shows, the Pooley family has established a second vineyard in the Coal River Valley at Richmond. Margaret Pooley remained the chief executive of Cooinda Vale Vineyard until well into her nineties. She was a hardy Scot and could be found tending vines during the coldest Tasmanian winters.

In 2003, John Pooley, son of Denis and Margaret, and his wife Libby bought Belmont, a heritage-listed Georgian home on the outskirts of Richmond. They have been lovingly renovating this second Pooley Wines Coal River Valley property, and have planted vines on nearby Butchers Hill. In 2007 the first vintage of Pinot was produced. The cellar door is housed in old sandstone stables on the Belmont property.

The family's love of wine was ignited many years ago, in 1954, when Denis Pooley became a founding member of the Hobart Beefsteak and Burgundy Club, two years after he and Margaret arrived in Tasmania from England. "There were only six members. It was very exclusive," recalled Margaret.


Until the passing of Margaret Pooley in November 2010, three generations of the Pooley family were working in the vineyards. Margaret's Grandson, Matthew Pooley, is also the Viticulturalist of Pooley Wines.

The grandmother/grandson wine-growing team was believed to be unique in Australia. "She was the main drive behind it," says Matthew Pooley of his astonishing grandmother. "She put us all to shame."

The Coal River Valley produces some of Australia's finest wines and the Pooleys are one of its longest-established winegrowers.

Pooley Wines consistently wins awards. Pooley Wines took home eighteen medals and two trophies at the 2011 Tasmanian Wine Show
Vineyard & Terroir
ANOTHER TASMANIAN FIRST
Recognised for our modern and environmental approach to leading viticulture practices by ENTWINE Australia (national wine industry's environmental assurance scheme), Pooley Wines has achieved status as Tasmania's first and only fully accredited Environmentally Certified Sustainable Vineyard in Tasmania.
Along with constant care to minimise the impact of certain farming practices across our vineyards, the Pooley Wines viticultural philosophy is simple – 'From ground to grape and grape to glass, and at the heart of all we do, our actions must never lose focus on providing the most environmentally sustainable approach to viticulture, so that the generations of tomorrow may benefit from the skills and experience of what we have learnt today.' Matt Pooley – Nuffield Scholar 2013 (GWRDC & AGWA).
COOINDA VALE VINEYARD, CAMPANIA
Established in 1985, the Cooinda Vale vineyard is ideally positioned facing northeast overlooking the Coal River in southern Tasmania. On the 43.5 Latitude line, the vineyard is planted on northeast facing slopes at 130m above sea level. This is a unique microclimatic location, being well protected from prevailing winds but still highly influenced by maritime conditions. The long growing season, which can extend into May, with high sunshine hours, predominately winter rainfall and the occasional frost and snow, combine to provide an excellent condition for cool climate grape varieties, such as Pinot Noir, Pinot Grigio, Riesling and Chardonnay.
The soils are Brown-Black dermosol subsoil, high in acid (associated with alluvial plains and river terraces) over decaying sandstone, with friable clay subsoil. Because of the sloping aspect, the drainage is excellent.
BUTCHERS HILL VINEYARD, RICHMOND

A new vineyard has been established on the Belmont Estate, allowing us to expand production of our quality wines.
Acquired by John and Libby Pooley in 2003, Belmont House is a stately sandstone house, located close to Richmond, in an outstanding setting within the landscape. The block is on the side of Butchers Hill facing north and captures the sun all day. The soils are well drained dolomite with limestone under layer, high in pH.
Press & Awards
2012 TASMANIAN VINEYARD AND PINOT NOIR PRODUCER OF THE YEAR
Pooley Wines is also proud to have received the prestigious 2012 Tasmanian Vineyard of the Year Award, given annually by the Royal Agricultural Society of Tasmania in association with Wine Tasmania and the Tasmanian Institute of Agriculture. This was in recognition of the winery's outstanding performance in production of quality wines, as Pooley Wines amassed a total of 18 Gold Medals and 2 Trophies at the highly acclaimed Tasmanian Wine show in 2012. This result was repeated at the 2012 Tasmanian Wine Show".
CRITIC REVIEWS
2013 Coal River Riesling – 97 points
2012 Late Harvest Riesling – 95 points
2012 Coal River Pinot Noir – 96 points
2009 Matilda Pinot Noir Chardonnay – 94 points

— James Halliday, Wine Companion
"Pooley Wines scored the only Gold Medals in the Museum Pinot Noir Class, with wines made 10 years apart (1991 and 2001). The older wine, having proved itself over 16 years (how many Australian Pinots have gone that distance?), won the trophy for Best Museum Red."
— Huon Hooke, wine critic and author
RECENT AWARDS (Please see our website for full details)

2014 Australian Small Winemakers Show GOLD 2014 Margaret Tribute Riesling
2014 National Cool Climate Wine Show GOLD 2014 Pooley Riesling
2013 Royal Melbourne Wine Awards GOLD 2012 Coal River Pinot Noir – equal Top Gold in Best Pinot Noir Class (96 points)

| | NAME | VINTAGE | TYPE | APPELATION | PRICE (USD) | Award | |
| --- | --- | --- | --- | --- | --- | --- | --- |
| | 2010 MATILDA SPARKLING 2ND DSG | 2010 | Method Traditional Champenoise | Coal River Valley, Tasmania | $45 | | Info |
| | 2010 MATILDA SPARKLING 2ND DSG | 2010 | Method Traditional Champenoise | Coal River Valley, Tasmania | $45 | | Info |
| | 2010 MATILDA SPARKLING 2ND DSG | 2010 | Method Traditional Champenoise | Coal River Valley, Tasmania | $45 | | Info |
| | 2010 MATILDA SPARKLING 2ND DSG | 2010 | Method Traditional Champenoise | Coal River Valley, Tasmania | $45 | | Info |
| | 2010 MATILDA SPARKLING 2ND DSG | 2010 | Method Traditional Champenoise | Coal River Valley, Tasmania | $45 | | Info |
LOCATION
GALLERY
POOLEY WINES
---
Contact with POOLEY WINES