Peachy Canyon Winery
United States - California - Paso Robles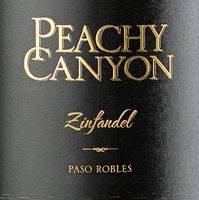 1480 N Bethel Rd., Paso Robles , 93465
About us
Peachy Canyon is a family owned winery in beautiful Paso Robles on California's central coast. Experience the warm hospitality of the Beckett Family and enjoy their acclaimed wines at the Old School House Tasting Room on Bethel Road.
Peachy Canyon has been ranked in the top 100 wines in the world by Wine Spectator magazine, and its many wines have been ranked with 90-point-plus scores, often for multiple vintages. Today a limited selection of choice Peachy Canyon wines are available in distribution in the US, Canada, UK, Japan, Korea, and China, with the most limited-allocation, low production wines available direct from the winery in the US.
History
Peachy Canyon unofficially began as a "garage winery" in Paso Robles over 25 years ago, when Doug and Nancy Beckett first started experimenting with home winemaking. By 1988 their winemaking had matured into a 500 case venture, and since then the winery has continued to grow.
Vineyard & Terroir
Peachy Canyon has four estate vineyards properties, all on the west side of Paso Robles, three of which are producing wine grapes as of this writing. These vineyards, while relatively close together, range widely in terroir and allow our winemaking team the opportunity to showcase the range of Paso Robles' microclimates.
Peachy Canyon's vineyards are farmed using sustainable practices. We compost all byproducts from the winery and reintroduce it to our soils every other year. We also grow barley in between our vine rows to help prevent erosion during the winter months.
In the spring we mow and then disk the barley back into our soils. During the growing year we use aggressive canopy management practices to minimize the risk of mildew which in turn reduces our need to spray. Weed control is done mostly by hand, with some small spot spraying.
Water conservation is a huge factor in sustainable farming as well. Peachy Canyon strategically waters each vineyard block throughout the growing season allowing us to maximize the quality of the fruit, minimize water waste and reduce runoff. An added bonus to the water conservation program is that it reduces our use of electricity, another factor in sustainable farming. Pests are managed by introducing beneficial insects such as ladybugs, lacewings, and praying mantis. We spray organic stylet oil to manage our leaf hoppers, (the most common insect pest in our growing area) very rarely do we spray pesticides, and only when our crops are in dire straits. Nets are used to keep birds from consuming our crops, and traps are used to control gopher populations.
LOCATION
OPENING HOURS
| | |
| --- | --- |
| Monday | 10:30–5:00 |
| Tuesday | 10:30–5:00 |
| Wednesday | 10:30–5:00 |
| Thursday | 10:30–5:00 |
| Friday | 10:30–5:00 |
| Saturday | 10:30–5:00 |
| Sunday | 10:30–5:00 |
| Particular days | The Peachy Canyon tasting room is open seven days a week except on select holidays and when closed for private events. |
GALLERY
Peachy Canyon Winery
---
Contact with Peachy Canyon Winery