PB Valley Khao Yai Winery
Thailand - Changwat Nakhon Ratchasima - Khao Yai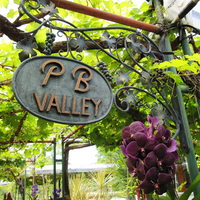 102/2 Moo 5, Mittraphap Road, Payayen, Pakchong, Pak Chong , 30320
About us
PB Valley Khao Yai Winery is the birth place of the Khao Yai Wine Region and one of the finest wineries in Thailand located at the edge of the Khao Yai National Park at 300 to 380 meters above the sea level. Its restaurant "The Great Hornbill Grill" a scenic country styled restaurant located amidst the vineyards and offers Western and Thai specialties which are partly matched to the wines grown in the estate. PB Valley also offers professional conducted wine tasting tours for which it has received the prestigious Kinnaree Awards from the Tourism Authority of Thailand. Only 146 km's northeast of Bangkok it's the perfect destination for a short trip with the whole family.
History
In 1989, Dr. Piya Bhirombhakdi - a visionary entrepreneur with a great appreciation for the finest things in life set about his mission to produce wine with a world-class taste for the people of Thailand. In the pioneering years of Thai wine-making history, this was indeed a very significant challenge.
The first vineyard spread over a total of 20 hectares and was planted with Shiraz for the red wine and Chenin Blanc for the white, featuring French rootstock, and Tempranillo from Spain.
With the harvest of 1998, PB Valley Khao Yai Winery celebrated its first milestone.
The 1999 vintage proved that quality wine could be successfully produced in Thailand. The first marketing success followed soon after and the vision of Dr. Piya Bhirombhakdi had become reality.
When Khao Yai Winery started it was the only wine maker in the region, however as more wineries emerged it was felt inappropriate to use the regional name on its wine labels. Thus, Khao Yai wine has been renamed PB Valley wine after the owner's initials.
The logo of the hornbill sitting on a cluster of grapes has an interesting cultural significance. The bird does not feast on grapes during the harvest as the logo could suggest but is a symbol of Khao Yai National Park.
The Hornbills habitat is one with fertile forests and the bird is a sign of fertility for which it was selected as the symbol of the vineyard.
The present wine selection available at the PB Valley Estate are Chenin Blanc, Colombard, Shiraz, Tempranillo, Durif, Dornfelder and Cabernet Sauvignon but the expansion to more varieties of grapes to produce more PB Valley Quality wines include Pinot Noir and others…
LOCATION
OPENING HOURS
| | |
| --- | --- |
| Monday | 9:00 am to 8:00 pm |
| Tuesday | 9:00 am to 8:00 pm |
| Wednesday | 9:00 am to 8:00 pm |
| Thursday | 9:00 am to 8:00 pm |
| Friday | 9:00 am to 10:00 pm |
| Saturday | 9:00 am to 10:00 pm |
| Sunday | 9:00 am to 8:00 pm |
PB Valley Khao Yai Winery
---
Contact with PB Valley Khao Yai Winery