L'Antica Quercia
Italy - Veneto - Conegliano Valdobbiadene Prosecco Superiore DOCG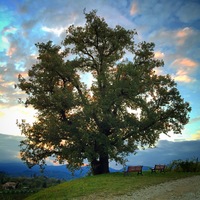 Via Cal di Sopra, 8, Scomigo di Conegliano , 31020
About us
Organic Growers and Artisan Winemakers
To understand what the Antica Quercia (Ancient Oak) is, you need to walk through our vineyards, look at everything that surrounds us, sit beneath the shade of the big oak and listen to the silence. We are on the axis that connects the high peaks of the Dolomites to Venice, nestled among unique hills which give us everything we could want. For vines, olive trees and all the other trees we grow are looked after and respected according to the rhythms and the rules always suggested by nature. We like to think that Antica Quercia is above all a beautiful place to stay. We do it for ourselves, for people that live with us and for future generations.
For this reason, our daily work aims to harmonise every choice we make, without forcing nature, as if everything was a continuous flow of energy.
Vineyard & Terroir
Our Vineyards are located in the Prosecco Superiore DOCG Area, near the city of Conegliano in a nice Hilly Countryside in the North Eastern Side of Veneto, Just Half Way Between the Wonderful City of Venice and the Magical Dolomiti Mountains.
The whole property is 30 hectars in a unique plot, out of the total land vineyards are about 20 hectars, we practice organic agricolture and we are cerified Bio since 2007.
Winemaking & Aging
All the wines are made esclusively with our own grapes grown in our vineyards.
Our Wines are Prosecco Superiore DOCG, a sparkling white wine, Colfondo, a Petnat white wine rifermented in the bottle and Colli di Conegliano Rosso DOCG, a red wine.
We produce also Extra-Virgin Olive Oil and Pomegranate Juice and Grappa di Prosecco
All our products are Organic
At The Winery
We're happy to welcome our guests. After a walk through the vineyards you can also pair the tasting of L'Antica Quercia wines with a special selection of local food. Besides, you can choose among different locations for your events, meetings or guided tours, even for bigger groups.
Wine Shop
| | NAME | VINTAGE | TYPE | APPELATION | PRICE (USD) | Award | |
| --- | --- | --- | --- | --- | --- | --- | --- |
| | Matiú | | Brut | Prosecco Superiore Docg | - | | Info |
| | Arió | | Extra Dry | Prosecco Superiore Docg | - | | Info |
| | Sú Alto | | Colfondo | Prosecco | - | | Info |
| | Morene | | Tranquillo | Prosecco Docg | - | | Info |
| | Bruscade | | Rosso | Colli di Conegliano Docg | - | | Info |
LOCATION
OPENING HOURS
| | |
| --- | --- |
| Monday | 8:30am to 5:30pm |
| Tuesday | 8:30am to 5:30pm |
| Wednesday | 8:30am to 5:30pm |
| Thursday | 8:30am to 5:30pm |
| Friday | 8:30am to 5:30pm |
| Saturday | 8:30am to 12:30pm |
L'Antica Quercia
---
Contact with L'Antica Quercia