Kirigin Cellars
United States - California - Onsite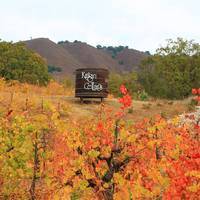 About us
Kirigin Cellars is one of California's oldest wineries. We are little-known but have been an enduring part of California's wine country since 1916. We are located fewer than 30 miles south of downtown San Jose.

Kirigin Valley is one of the most delightful morsels of Santa Clara County: 33 acres of rolling vineyards, nine acres of cricket lawns, over 1000 rose bushes and 100 redwood sequoias are surrounded by hills and rangeland. Our old buildings and wine-tasting areas, as well as our new Tuscan-style Club House building, exude old-world charm.

Since its inception, family-owned Kirigin Cellars has maintained its tradition of offering an unpretentious wine-tasting experience, and old-fashioned hospitality. We handcraft small batches of exquisite wines from grapes grown in our vineyards. We cultivate 11 different wine grapes—Pinot Grigio, Sauvignon Blanc, Chardonnay, Malvasia Bianca, Pinot Noir, Cabernet Sauvignon, Syrah, Petite Sirah, Malbec, Tempranillo and Zinfandel—which we crush within hours of picking during each harvest.

Our spectacular, historic winery opens its creaky doors daily at 10:00 a.m., and we remain open until 5:00 p.m. for visitors to enjoy complimentary wine tasting. Our beautiful property is also available for picnics and tours.
History
For generations, the members of the Kirigin family farmed vineyards and produced delectable wines in their native Croatia along the Adriatic Coast. Unfortunately, the rise of the Communist Yugoslav government irrevocably changed their lives and forced them to pursue their passion for wine elsewhere.

Young Nikola Kirigin-Chargin earned a degree in enology at the University of Zagreb in 1941 and then left his native land for the United States in 1959. He became known as a distinguished winemaker while working at Almaden and at other wineries. The Bonesio Winery (also known as the Uvas Winery) in the Uvas Valley reminded Mr. Kirigin of his family's winery on the Island of Brač, so Nikola and his wife purchased the historic Bonesio Winery in 1976. Nikola began producing unique, high-quality, wines using old European techniques and new American technology. He passed away on May 14, 2011, on the island of Brač, where he was born. Kirigin Cellars continues to proudly make wine Nikola Kirigin's way.

At The Winery
Kirigin Cellars rents out its 7,000 square foot Club House building for a variety of private and corporate events. Our Club House facility is the perfect location for your next corporate off-site, company holiday party, dance or musical performance, bar or bat mitzvah, anniversary party, and other personal or professional event.
For your wedding, we offer you our beautiful valley: over 33 acres of vineyards, nine acres of immaculate cricket lawns, 1,000 rose bushes and 100 redwood sequoias. Kirigin Cellars' history and natural beauty provide the perfect pastoral venue for couples to begin their lifelong journey together. Our famous handcrafted wines and California champagne will lend an elegant touch to your beautiful wedding day at this historic winery.
Kirigin Cellars offers state-of-the-art facilities to rent for a couple's special wedding day. The arbors, lawns, terraces and vineyard areas are unparalleled for hosting wedding ceremonies and the new 7,000 sq. ft. Tuscan-style Club House building is designed for joyous, weatherproofed receptions. It seats up to 200 guests in the main banquet hall.
LOCATION
GALLERY
Kirigin Cellars
---
Contact with Kirigin Cellars