Keeler Estate Vineyard
United States - Oregon - Eola Amity Hills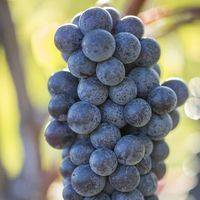 About us
Keeler Estate Vineyard is located in the Willamette Valley of Oregon, with the snow capped Cascade Mountains to the East and the spectacular Coast of the Pacific Ocean to the West. The vineyard is part of the Eola-Amity AVA (American Viticultural Area), a wine region blessed with the cooling afternoon Van Duzer Winds from the ocean during the warm ripening season. This helps retain good acidity and balance in the fruit we grow in the volcanic, shallow soils of the area.
History
Our story begins in 1989 when Craig and Gabriele Keeler were searching for properties to begin a new chapter in their lives and decided to take a walk through a picturesque hillside in Amity, Oregon. When Gabriele saw, on this long time abandoned, over grown with blackberries piece of land, the view to the south with views of Mary's Peak and Oregon's coastal mountains she grabbed Craig's hand and said "CK, this is the place!". In 1990 the Keeler family moved to their 200 acre property and through many years of hard work they transformed what was once fields of blackberry's, rocky terrain and dilapidated structures to what is today; a home and Keeler Estate Vineyard. It's a truly magical place consisting of a thriving biodynamic vineyard, gardens, forest, lakes, streams, acres of landscaping and plenty room for entertaining. You'll not want to miss an opportunity to visit.
Vineyard & Terroir
The quality and diversity of our soil types are unprecedented.
Our soils are comprised of Steiwer, Chehulpum, Hazelair and Shallow Sedimentary soils with underlying remnants of an ancient ocean bed. Some blocks have virtually no topsoil and consist of sand stone full of fossilized sea creatures and molluscs. Check out the image on your right taken in one of our Pommard blocks.
We have breathtaking panoramic views of Oregon's pristine coastal range including views of Mary's Peak 65 miles to the south. Our vineyard is influenced by coastal influence through the Van Duzer corridor. Winds from the west constantly blow through our vines situated on our south southwest facing hillside in the Eola Amity Hills.
The vineyard is certified Demeter Biodynamic, Stellar Organic, LIVE and Salmon Safe.
Our planted hillside ranges from 230' to 500' in elevation with much more property to be developed. We have planted grafted ENTAV-INRA® certified clones.
Pinot Noir clones 667, 777, 115, 943, Pommard 04, 05 and Wädenswil.
Chardonnay clones 44, 75, 76 and 95.
Pinot Gris clones 04 and 52.
in honor of Gabriele's German heritage we have planted Riesling ENTAV-INRA® 49
Polyculture farming is applied to mimic the kind of functioning you see in a natural ecosystem by diverse plant and management techniques to produce the best products possible in an environmentally sound way for our customers.
We care for our natural areas, insectaries, fruit trees, gardens and encourage wildlife activity. One example would be the colorful perches we built throughout our vineyard for owls and hawks. Goodbye voles.
LOCATION
Keeler Estate Vineyard
---
Contact with Keeler Estate Vineyard