James Charles Winery & Vineyard
United States - Virginia - Shenandoah Valley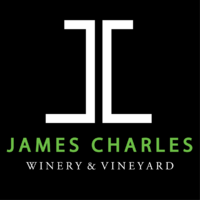 4063 Middle Rd, Winchester , 22602
About us
Founded in 2015, James Charles Winery is the embodiment of the Bogaty's family story. We make old-world style wines in the heart of Virginia's Shenandoah Valley AVA - just outside of Winchester - which strongly resembles classic winemaking regions in France. Our wines are bold, full-bodied and complex.
History
James Charles Bogaty had a vision for excellent winemaking in the Valley, and in 1995 he bought a 100-acre tract of land on the banks of the Shenandoah River, west of Berryville. In 2000, James and his wife, Della, opened Veramar Vineyards on this land, becoming the 63rd winery in Virginia. It has since grown to produce over 10,000 cases of wine a year.
The Bogatys were one of the "first families" of the modern era of Virginia winemaking. James established the Shenandoah Valley Wine Trail to share with the world what an incredible region the Valley is when it comes to producing world-class grapes.
James and Della's son, Justin, found his own passion for wine and came to Virginia to become our winemaker after receiving a certificate in enology from UC Davis. Every season he becomes more obsessed with exceeding even the highest expectations for the quality that this region can produce, and his creative, informed work has gained recognition the world over.
In 2010, we opened a second winery, Bogati Bodega, to continue our journey of innovative, meticulous winemaking with a South American theme. Our wines there quickly became beloved by wine-lovers everywhere.
But ours is not a story about words and companies and charters. Our story is about our passion for crafting something great: wine in which you can touch, taste, smell the quality, the attention to detail.
We strive to make our wines among the best, not just in Virginia, or the United States, but in the world. We grow on some of the world's best soil in a truly unique microclimate, and we have the passion, the innovation, and the dedication to make our vintages truly world-class.
James Charles Winery is the embodiment of our story. Our two existing vineyards simply could not contain our enthusiasm and absolute dedication to our craft, and this new venue allows us to expand our horizons and continue to grow the best grapes and ferment the best wine imaginable.
We are two generations of people passionate about wine, and we hope that when a third generation inherits our values and hard work, they will also inherit a place that produces wine that people the world over know is, well and simply, among the best.
LOCATION
OPENING HOURS
| | |
| --- | --- |
| Monday | 12:00 pm - 5:00 pm |
| Tuesday | 12:00 pm - 5:00 pm |
| Wednesday | 12:00 pm - 5:00 pm |
| Thursday | 12:00 pm - 5:00 pm |
| Friday | 12:00 pm - 9:00 pm |
| Saturday | 12:00 pm - 7:00 pm |
| Sunday | 12:00 pm - 6:00 pm |
GALLERY
James Charles Winery & Vineyard
---
Contact with James Charles Winery & Vineyard