Hanging Tree Wines
Australia - New South Wales - Hunter Valley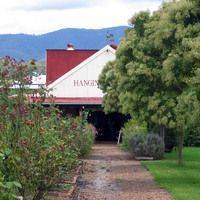 About us
The Hanging Tree Wines Vineyard is perched on the most scenic ridge of Pokolbin in the sensational Hunter Valley, an easy2 hour drive from Sydney and 4 minutes from Newcastle.
History
The Hanging Tree Wines property covers 40 magnificent acres; 8 of which are planted with Shiraz, Cabernet, Semillon and Chardonnay vines.
With olive groves that look over the valley to uninterrupted views of the Brokenback Range and a rustic Blacksmith's house on display as you enter the front gates. Our historic Hanging Tree was rumoured to have hung beasts and bush-rangers in the early days of settlement and makes an interesting photo opportunity.
Follow the path down past our sea of rose beds, where to the left you can see the old Horse Whisperer's Lodge and Koi pond.
Step back in time as you walk into our boutique Cellar Door- housed within an old cow shed filled with nick-knacks and antiques, Where you can taste some of our award winning wines and meet our resident Labradors Vodka & Muscat who would be glad to escort you as you wander through the rest of the property.
| | NAME | VINTAGE | TYPE | APPELATION | PRICE (USD) | Award | |
| --- | --- | --- | --- | --- | --- | --- | --- |
| | Hanging Tree Reserve Shiraz | 2012 | Shiraz | | 28 | | Info |
| | Hanging Tree Reserve Shiraz | 2005 | Shiraz | | $55 | | Info |
| | Hanging Tree 2013 Shiraz Cabernet | 2013 | Shiraz Cabernet | | $28 | | Info |
| | Aprils Cabernet Sauvignon | 2013 | Cabernet Sauvignon | | $35 | | Info |
| | Mings Grenache Merlot | 2012 | Grenache Merlot | | $45 | | Info |
| | Hanging Tree Merlot | 2013 | Merlot | | $35 | | Info |
| | Hanging Tree Reserve Cabernet Shiraz | 2003 | Cabernet Shiraz | | $60 | | Info |
LOCATION
Hanging Tree Wines
---
Contact with Hanging Tree Wines