Fruit d' Vine Vineyards
United States - Virginia - Shenandoah Valley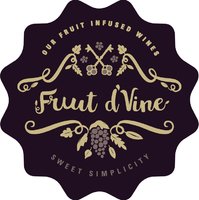 About us
Riesling-based fruit wines. Fruit d'Vine brand includes: Apple, Peach, Strawberry, Blueberry. Visit CrossKeys Vineyards Tasting Room for sales & tastings.
Winemaking & Aging
Apple d'Vine
Riesling-based, with a sweet, juicy, green apple taste. Grandma's apple pie never tasted so good. The smell alone is a crowd pleaser. Pairs great with cobbler.
Peach d'Vine
Slightly sweet with a peachy-kick. This Riesling-based wine starts off with a distinctly light and refreshing taste. It's sure to please in any setting from sitting on the porch sharing a bottle with friends or after dinner with vanilla ice cream.
Blueberry d'Vine
Riesling-based with a hint of Petit Verdot, giving this wine its slightly red color. The combination of sweetness and blueberry flavor make this wine a hit at any back yard barbecue. Pairs well with barbecued meats.
Strawberry d'Vine
Strawberry in a bottle. Riesling and a splash of Chambourcin make up this delicious wine. Smells and tastes just like a vine-ripened Strawberry. Great with a fresh salad, dark chocolates, or our Brie Fondue
LOCATION
OPENING HOURS
| | |
| --- | --- |
| Monday | 11:00am - 5:00pm |
| Tuesday | 11:00am - 5:00pm |
| Wednesday | 11:00am - 5:00pm |
| Thursday | 11:00am - 5:00pm |
| Friday | 11:00am - 5:00pm |
| Saturday | 11:00am - 5:00pm |
| Sunday | 11:00am - 5:00pm |
Fruit d' Vine Vineyards
---
Contact with Fruit d' Vine Vineyards