Fincastle Vineyard and Winery
United States - Virginia - Shanador Valley VA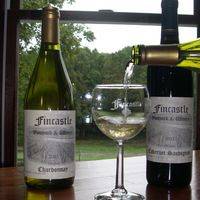 About us
Nestled in the Great Valley of Virginia's Blue Ridge Mountains, Fincastle Vineyard & Winery produces wines using traditional Bordeaux small scale techniques. From the vines of Cabernet Sauvignon, Cabernet Franc, and Chardonnay come wines pressed gently and aged in oak. After 10 years in the planning, David, Georgia, and their son, Richard opened Botetourt County's first farm winery in 2003 with a special emphasis on quality and not quantity. According to the Virginia Wine Guide "Fincastle's 2001 reds are beautifully handcrafted blockbuster wines, dark, lush and intensely flavored."
Built into the hillside by our farmhouse, the winery is a gravity-fed operation, thus insuring the completely natural handling of the wine. The unique construction of the winery utilizes top-level in-ground primary fermentation storage, below which are three levels of barrel storage, providing for the downward flow of wine during racking.
The vineyard can be seen from the Blue Ridge Parkway at Milepost 100. A simple desire to "do something with the land" has blossomed into a thriving vineyard where once there were only cows and hay.
| | NAME | VINTAGE | TYPE | APPELATION | PRICE (USD) | Award | |
| --- | --- | --- | --- | --- | --- | --- | --- |
| | Fincastle Vineyard and Winery Viognier | | Viognier | | - | | Info |
LOCATION
GALLERY
Fincastle Vineyard and Winery
---
Contact with Fincastle Vineyard and Winery