Doña Javiera
Chile - Santiago Metropolitan - Maipo Valley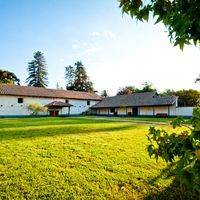 About us
Located in a privileged place, where the natural richness of Maipo Valley meets an historical patrimony connected with the Foundation and the Independence of Chile, Viña Dona Javiera is a family business that aims to rescue the wine making tradition of several generations.
The estate house of Viña Doña Javiera, declared Historical Monument in 1974, was build more than 200 years ago. There, the Carrera brothers, fundamental heroes of the national Independence, lived. This estate is located in Fundo San Miguel in El Monte, 50 kms. West from Santiago.
History
Francisco Correa inherited San Miguel estate from his parents and lived there since 1940.
His great- grandfather Bonifacio Correa Albano was the first in the family to grow vineyards and to produce wines, and in 1992 Don Paco decides to resume the family tradition by building a winery with capacity for 1,5 million liters and planting 50 hectares of vineyards with Cabernet Sauvignon, Merlot, Carmenére, Syrah, Sauvignon Blanc and Chardonnay vines.
Nowadays the Correa Family is part of the identity of El Monte Commune, with contributions that largely succeeds the merely productive aspects, due to the fact that they are the caretakers of the rich historical patrimony present in their estate, which they share with everyone who's interested in knowing a little more about Chilean history.
Local residents from El Monte have the certainty that there's a tunnel that joins the Convent of the Franciscans in the town's main square with the house of the Carrera brothers in San Miguel estate, because some older families of the area tell stories of not only seeing it, but about being there, played there and finding armor and pieces of patriot uniforms.
If it exists, it would be one kilometer long, three meters deep and would go through the buildings that surround the civic center of the commune since the conquista period. Its size would've allowed riding a horse inside. The legend says that Jose Miguel Carrera choose that place to hide after the Desastre de Rancagua. But not only that, the tunnel was also the hiding place for Jose Miguel Rodriguez in his multiple revolutionary escapades.
Vineyard & Terroir
Our 50 hectares of vineyards –located in Maipo Valley- are highly influenced by the breeze of the Pacific Ocean, causing sharp contrasts between night day and temperatures.This microclimate encourages late grape maturity, offering very favorable conditions for producing fine wines.The quality of our wines, are the result of our meticulous care for our prime material: the grapes.Our varieties are; Cabernet Sauvignon, Merlot, Carmenere, Syrah, Chardonnay and Sauvignon Blanc.
At The Winery
Winemaker:
Felipe de Solminihac I.
- Chilean
- Agronomist Engineer and Oenologist, graduated from the Pontificia Universidad Católica de Chile
- Graduated from the Intitut d'Oenologie de Bordeaux, France
- Pontificia Universidad Católica de Chile Professor
| | NAME | VINTAGE | TYPE | APPELATION | PRICE (USD) | Award | |
| --- | --- | --- | --- | --- | --- | --- | --- |
| | Doña Javiera Cabernet Sauvignon Reserva | 2013 | Reserva | Red Wine | USD 15 | | Info |
LOCATION
Doña Javiera
---
Contact with Doña Javiera