David Chambers
United States - California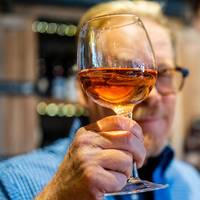 102 W. Main Street, Grass Valley , 95945
About us
A boutique wine shop with a large online presence. We curate a rotating portfolio of new discoveries with a strong emphasis on family-owned growers and producers around the world.
Because each wine's unique story is so critical to our customers' total wine experience, we provide a QR code on every bottle - scan it and you're viewing a video, or reading the wine's bio, wherever and whenever you pop the cork!
Shopping Options
Order online, pick up in store. Or enjoy our complimentary local shipping on orders above $125 (10-mile radius, next business day). And of course, we ship via UPS to all other legal destinations.
Expertise
Dave has managed wine shops, wine clubs and wine bars for 15 years, and has taught wine classes for 30. His travels have included most of the world's wine-producing regions, with an emphasis on the obscure regions producing great wines with names and grapes that may be too difficult to pronounce for them to enjoy broad appeal in the U.S. He then highlights these wines in his wine club shipments, on the shop's sales floor and via Youtube and social media. Come discover YOUR new favorite!
Preferred Wine Regions
California, Oregon, Washington, Italy, France, Spain, Portugal, and South Africa.
Preferred Wines
Pinot Noir, Barolo, Brunello di Montalcino, GSM, and dozens of Roses and obscure white varietals from around the globe.
LOCATION
David Chambers
---
Contact with David Chambers