Concannon Vineyard
United States - California - Livermore Valley, California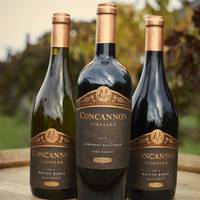 About us
Visit Concannon Vineyard, America's oldest, ongoing winery under the same family label and stewardship, for an unparalleled wine country experience. In this inspiring atmosphere, the tradition of casual elegance and warm hospitality that first began in this historic winery lives on today. We invite you and your special guests to savor our award-winning wines and enjoy a unique Concannon Wine Country Experience. We feel honored to have been named A USA Today Travel, 2014 "Wine Country Holiday Destination" as well as IntoWine's 2014 "Top 25 Most Awesome Tasting Rooms in California."
As our guest, you will be greeted by friendly and knowledgeable winery estate hosts who will introduce you to our delicious elegant wines and can guide you on private tours of our tasting room, barrel room, state-of-the-art winery vineyards—all surrounded by stunning vistas and captivating beauty.
History
In 1883, James Concannon established Concannon Vineyard, now celebrating 132 years of family winemaking as America's Oldest, Ongoing Winery Under the Same Family Label and Stewardship. Recognizing our terroir as strikingly similar to the premier vineyards of Bordeaux, James purchased our beautiful acreage and built our historic winery which has since been honored as a California Registered Historical Landmark for the trailblazing California wine history it represents.
Vineyard & Terroir
At Concannon Vineyard, we are committed to preserving the past while engaging the future, a legacy which includes our unswerving dedication to environmental stewardship and respect for the land. Concannon was one of the first in California to become Certified Sustainable; and, while here, you will learn about our sustainable practices which can be witnessed throughout our vineyard and tasted in the fresh intensity and flavorful complexity of our wines.
Winemaking & Aging
Concannon Vineyard has received over 100 reviews and awards of 90+ points since 2008.
At The Winery
Originally dedicated as a historic landmark in 1958, the Concannon Estate Tasting Room was revitalized and rededicated in 2009. Century-old cedar planks from the original, tasting room ceiling and wood from a 50-year-old, redwood wine barrel accent this updated room of timeless elegance. Enjoy a flight of our award-winning and exceptional Reserve wines for a $10 tasting fee (Complimentary for Wine Club members). Gifts and logo-wear are also available at the retail shop on-site, along with select vintages only available at the estate. Guests must be 21 years of age or older.
Our outdoor seating areas on the lawn are ideal to enjoy wine, food and conversation in a beautiful and relaxing environment. The lawn areas are open to all patrons of the Concannon Tasting Room, Underdog Wine Bar or Wine Pavilion, and Reserve wines are available by the glass.
Press & Awards
We feel honored to have been named A USA Today Travel, 2014 "Wine Country Holiday Destination" as well as IntoWine's 2014 "Top 25 Most Awesome Tasting Rooms in California."
2013 Concannon Founder's Cabernet Sauvignon
San Francisco Chronicle Wine Competition | Gold Medal | 2015
Consumer Wine Awards | Gold Medal | 2015
2013 Concannon Founder's Chardonnay
Consumer Wine Awards | Gold Medal | 2015
2010 Concannon Reserve Cabernet Sauvignon
Wine Enthusiast | 91 Points | 2014
2010 Concannon Reserve Cabernet Sauvignon
Wine Enthusiast | 91 Points | 2014
2010 Concannon Reserve Cabernet Sauvignon, Mother Vine
Wine Enthusiast | 90 Points | 2014
LOCATION
OPENING HOURS
| | |
| --- | --- |
| Monday | 11:00am-4:30pm |
| Tuesday | 11:00am-4:30pm |
| Wednesday | 11:00am-4:30pm |
| Thursday | 11:00am-4:30pm |
| Friday | 11:00am-4:30pm |
| Saturday | 11:00am-4:30pm |
| Sunday | 11:00am-4:30pm |
| Particular days | Underdog Wine Bar hours available at www.underdogwinebar.com |
Press & Awards
We feel honored to have been named A USA Today Travel, 2014 "Wine Country Holiday Destination" as well as IntoWine's 2014 "Top 25 Most Awesome Tasting Rooms in California."
2013 Concannon Founder's Cabernet Sauvignon
San Francisco Chronicle Wine Competition | Gold Medal | 2015
Consumer Wine Awards | Gold Medal | 2015
2013 Concannon Founder's Chardonnay
Consumer Wine Awards | Gold Medal | 2015
2010 Concannon Reserve Cabernet Sauvignon
Wine Enthusiast | 91 Points | 2014
2010 Concannon Reserve Cabernet Sauvignon
Wine Enthusiast | 91 Points | 2014
2010 Concannon Reserve Cabernet Sauvignon, Mother Vine
Wine Enthusiast | 90 Points | 2014
Concannon Vineyard
---
Contact with Concannon Vineyard