Clos LaChance Wines, LLC
United States - California - Central Coast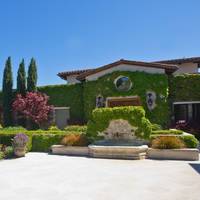 1 Hummingbird Lane, San Martin , 95046
About us
Clos LaChance is a family owned and operated winery, located in the rolling hills of San Martin, California, just south of San Jose. Clos LaChance is a state of the art facility nestled near the sixth hole of the luxurious CordeValle Golf Club. Elegant yet quietly informal, Clos LaChance is a perfect place for memorable events large and small, from weddings, corporate events, etc.
History
In 1987, co-owners Bill and Brenda Murphy decided to plant a few rows of Chardonnay in their Saratoga backyard, both for landscaping purposes and to realize their dreams of being small-scale vintners. A few years later, the wines produced from this small backyard vineyard were good enough to sell to the public. It was at this point that Clos LaChance formed into a commercial winery. The first released wines were from the 1992 vintage. The next 15 years would take the Murphy's from 200 cases of wine produced to 80,000; 3/4 of an acre to 150 acres planted and 20 full-time and 25 seasonal employees.
Clos LaChance Winery takes its name from the small fenced-in area encompassing a vineyard (Clos) and from co-owner Brenda Murphy's maiden name (LaChance). The Murphy's chose the Hummingbird as the winery's symbol for both its aesthetic beauty and its ability to keep other birds away from the grapes.
Together with their daughters, Bill and Brenda have created a multi-generational, family-owned and operated winery. It is their dream that the third generation will eventually take over the business.
The winery is located in San Martin, CA, within the Central Coast American Viticultural Area. Tucked into the beautiful Hayes Valley, Clos LaChance is a true wine country experience located only 30 minutes from the Silicon Valley. Click here for more information about visiting Clos LaChance Winery.
Being a good steward of land and resources are key components in Clos LaChance's winemaking practice. The family is especially vested in the sustainability of the winery and vineyard with the homes of creating a legacy for their children and grandchildren. Clos LaChance Winery and Estate Vineyard is proud to be Certified Sustainable by the California Sustainable Winegrowing Alliance.
Vineyard & Terroir
Clos LaChance is proud to be one of the first certified sustainable wineries in California. Being a good steward of land and resources is a key practice in Clos LaChance's wine making and wine growing philosophy. Owners Bill and Brenda Murphy are especially vested in the sustainability of the vineyard and winery—creating a legacy for their children, grandchildren and generations to come.
Sustainability is an ever-evolving practice. A member of the Central Coast Vineyard Team, Clos LaChance has also actively participated in the Wine Institute Sustainability Self-Assessment Program, identifying strengths and opportunities for improvement. We are proud of current achievements to create an environmentally, economically and socially sound business, and will continue working towards more sustainable practices.
In early 2009, Clos LaChance's 150-acre Estate vineyard was one of seventeen California vineyards to be Sustainably Certified via the California Sustainable Winegrowing Alliance. The production facility was certified shortly thereafter.
At The Winery
We have events, weddings, concerts and more at the winery all of the time! Visit www.clos.com for more info!
Press & Awards
Visit our "News" section of our website to see all of the current Clos LaChance press; http://clos.com/about/news/
LOCATION
OPENING HOURS
| | |
| --- | --- |
| Monday | 11am-4:30pm |
| Tuesday | 11am-4:30pm |
| Wednesday | 11am-4:30pm |
| Thursday | 11am-4:30pm |
| Friday | 11am-4:30pm |
| Saturday | 11am-4:30pm |
| Sunday | 11am-4:30pm |
Press & Awards
Visit our "News" section of our website to see all of the current Clos LaChance press; http://clos.com/about/news/
GALLERY
Clos LaChance Wines, LLC
---
Contact with Clos LaChance Wines, LLC