Chase Cellars
United States - California - St. Helena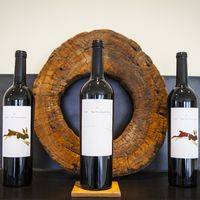 About us
Hayne Vineyard

In the heart of Saint Helena, our historic Hayne Vineyard is home to 112-year old heritage Zinfandel vines, and the source of some of the most highly rated Zinfandel in California. Like living works of art, each of these old vines is a unique spirit unto itself.

Our vines are dry farmed, head-trained, hand-tended and managed sustainably with lots of love and no chemical intervention — the same way our family has done it for five generations.

These old vines have incredible, almost mysterious qualities — like their ability to preserve beautiful, mouthwatering acidity even with extended hang times. We can achieve ripe, concentrated berries that produce powerful and complex wines without ever compromising balance, or that luminous purity of fruit. This is the Holy Grail in winemaking and just one of the secrets of our old vines. This effort has given our vines character — a palpable life force that you can taste and feel in every Hayne Vineyard wine.

History
An Historical Reference

In 1849 Captain George Chase (Katie's great-great-greatgrandfather) sailed to San Francisco in search of gold. When he came upon shore, George wrote to his good friend and business partner William Bourn, saying "San Francisco promises to be a most lucrative center for men of imagination and business enterprise." William, who had an eye for good deals and ventures, couldn't refuse and travelled west to work with George, and in short order became a successful banker.

The property, now known as Hayne Vineyard, was purchased in 1872 by William Bowers Bourn and his wife Sarah Esther Chase Bourn (Katie's great-great grandmother) as a summer retreat from the stress of the high stakes business world in San Francisco. While here, they would stay in the white cottage — now Katie's home, next to the winery— and always remarked on how beautiful and peaceful it was.

The youngest of Sarah and William's six children, Maud (Katie's great grandmother), married William Alston Hayne – who became the namesake for what is now known as the Hayne Vineyard.

During this period, William's son William Bourn II — also a visionary businessman — used is father's wealth to develop the Empire Mine, which turned out to be the largest hard rock gold strike in California. Not content to stop, there he also created San Francisco's first water and gas utilities. He was so outrageously successful that the business community actually coined the phrase "Bourn Luck".

As part of his legacy, he built two of the most iconic buildings in the Bay Area: the Filoli mansion, and Greystone.


Vineyard & Terroir
Tasting experiences are available by appointment daily from 10am to 4pm (except Sunday).
Depending on the weather, you'll most likely be seated 'al fresco' in the olive grove overlooking our old vines.

Tastings are $30 per person and include a selection of our estate wines. Club members are gratis.
At The Winery
Russell Bevan, Winemaker

We admit it, the countless number of 90- to 100-point scores from the most respected wine critics in the world were the reason we initially reached out to Russell about becoming our winemaker. However it was his personality that ultimately won us over.

High energy and passionate are some of the words people often use to describe Russell, but we're not sure those adjectives do him justice. Pure artist, Russell is assiduously creative and generally over the top when it comes to just about everything having to do with making great wine. But he's also a hell of a lot of fun. He speaks in terms of good karma in his wines, and his energy is infectious. Best of all, as someone who's spent a formidable career seeking out the most iconic vineyards in California he is, without a doubt, head over heels in love with our old vines; and you know that love is something you can actually taste.


LOCATION
GALLERY
Chase Cellars
---
Contact with Chase Cellars