Cappa Stone
Australia - Victoria - Murray Darling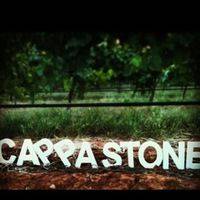 About us
Our Cappa Stone family is made up of friends that have a long relationship and love for wine.
Descendant's from Italy and the mountains of Calabria with a long history in growing grapes and a passion for drinking good wine. The Cua Italian Grand parents used the Cappa Stone (Pietra Cappa) rock formation in the Calabrian Mountain range in Southern Italy, to hide and protect the family. Here they survived and encouraged the family to love life and to live it to it's fullest.
The rock formation is a symbol of life, fulfillment and opportunity that is instilled into our company and into the wines that are made for all to fall in love with.
To make our wines, we select super premium parcels of fruit and transport them to our winery to be hand made and nurtured with open fermentation vats, basket presses and aged in the finest of oak barrels.
Donna Stephens is the Winemaker and one of the owners of Cappa Stone. With over 20 years experience in the wine industry. She brings to our company a wealth of knowledge and passion in making wines from the Clare Valley, Coonawarra, Adelaide Hills and other cool climate regions. Over her winemaking career she has made wine for people
History
Donna Stephens is Cappa Stone's winemaker 'extraordinaire'.
Before becoming a winemaker, Donna completed a Bachelor of Science in Environmental Biology & Zoology which eventually landed her a job in Nhulunbuy (Google it!) in Australia's Northern Territory working on a crocodile farm.
Having finished her degree in Winemaking from Charles Sturt University in 1994, Donna worked at Buronga Hill Winery as an Assistant Winemaker and from there, took up the helm at Cranswick Estate and then Evans & Tate; as Senior Winemaker
Prior to establishing Cappa Stone, Donna enjoyed a long stint in the Clare Valley with Kirrihill Wines, where she created award winning Regional & Single Vineyard wines.
Donna, who has more than 20 years experience in the wine industry brings to Cappa Stone a wealth of knowledge and passion and has, over her winemaking career, made wine for people all around the world.
She works with a simple vision; to create wines that she loves. Wines that have genuine regional character, real finesse & classic style. Wines that are worthy of the Cappa Stone label
Vineyard & Terroir
The 1830s search for an inland sea resulted instead in the naming of the Darling and Murray Rivers by Captain Charles Sturt and settlers began occupying land for sheep grazing from the 1840s.
In 1887, the enterprising Canadian brothers, George and William Benjamin Chaffey, at the invitation of future Australian prime minister, Alfred Deakin, traveled from California to set up irrigation colonies at Renmark and Mildura.
The first wine grape varieties including Mataro, Cabernet Sauvignon, Gordo and Shiraz, were planted in 1888, with the first vintage taking place in 1891.
These first wines were well received by the colonies and began a wine industry that goes from strength to strength today.
The warm climate of the Murray Darling and Swan Hill wine regions not only make the region climatically pleasant all year round but has helped cultivate some of Australia's best wines that have grown and thrived among the eclectic natural landscapes of Red Gum forest, desert, river, outback and lagoons.
Mildura and Swan Hill specifically create famed Australian favourites, such as smooth Shiraz and flavoursome Chardonnay. However there is also a thriving local winemaking industry that excels at growing varieties like Viognier, Nebbiolo, Vermentino, Durif, Barbera and Sangiovese.
At The Winery
Cappa Stone operates an intimate Cellar Door on the winery property.
Here you can meet and talk to our winemaker Donna Stephens as well as sampling the full range of wines under our Cappa Stone label
Drive by and drop into our Cellar Door and let us take you on a sensory adventure…
We're open 7 days a week; 12pm - 5pm
Join our mail order list to stay in touch with all of our latest news and wine results.
LOCATION
Cappa Stone
---
Contact with Cappa Stone