Bodega Vera de Estenas
Spain - Valencia - Utiel-Requena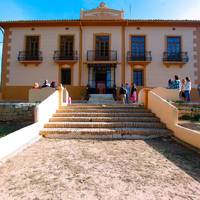 road NACIONAL III km 266, Utiel , 46300
About us
We are a small family winery in the late nineteenth century. Two years ago we were recognized as "vino de pago", the highest rating you can get a winery in Spain.
History
During the visit we will visit every corner of the winery, explaining in detail the process of making wine (vineyards, reception of grapes, barrels room, bottling and storage)


Also we will visit our small museum and we are going to go down to ancient underground fermentation tanks of the late nineteenth century, converted into cellar for wine storage.


The tour ends with a tasting of three wines.
| | NAME | VINTAGE | TYPE | APPELATION | PRICE (USD) | Award | |
| --- | --- | --- | --- | --- | --- | --- | --- |
| | Martinez bermell | 2014 | Vino de pago | D.O.P VERA DE ESTENAS | 10€ | | Info |
| | Viña Lidon | 2015 | Vino de Pago | D.O.P VERA DE ESTENAS | 10€ | | Info |
| | Casa Don Angel Bobal | 2012 | | D.O.P Utiel - Requena | 15€ | | Info |
| | Casa Don Angel Malbec | 2012 - 2013 | | D.O.P Utiel - Requena | 9€ | | Info |
| | Estenas Cava | 2014 | cava | D.OCava | 8 | | Info |
| | Estenas madurado en barrica | 2015 | madurado en barrica | D.O.P Utiel - Requena | 5€ | | Info |
| | Estenas crianza | 2013 | crianza | D.O.P Utiel - Requena | 8€ | | Info |
| | Estenas Rosado | 2015 | | D.O.P Utiel - Requena | 5€ | | Info |
| | Estenas Blanco | 2015 | | D.O.P Utiel - Requena | 5€ | | Info |
LOCATION
OPENING HOURS
| | |
| --- | --- |
| Monday | 9-14 |
| Tuesday | 9-14 |
| Wednesday | 9-14 |
| Thursday | 9-14 |
| Friday | 9-14 |
| Saturday | 9-14 |
Bodega Vera de Estenas
---
Contact with Bodega Vera de Estenas