Bangor Vineyard Shed
Australia - Tasmania - Tasmania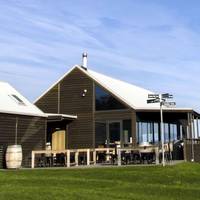 About us
Bangor is an historic farming property, located at Dunalley in the cool, south-east corner of Tasmania.
Here, in Australia's smallest wine state, Bangor owners Matt and Vanessa Dunbabin have added world-class viticulture to the six generations of farming and responsible land management that have sustained Bangor and all its lifeforms since 1890. Vines, nature, food and heritage – there's a story in every bottle.
BANGOR VINEYARD
20 Blackman Bay Road
Dunalley
Tasmania 7177
AUSTRALIA
e: wine@bangor.com.au
w: bangorshed.com.au
History
Bangor Estate's story starts in 1830, when John Dunbabin, convicted of horse stealing, was transported to Van Diemen's Land. Through sheer hard work he earned his freedom and bought his own land, paving the way for five generations of farming at Bangor.
Today it is a 6200ha property on the Forestier Peninsula in one of the most southerly parts of Tasmania, with 5100ha of native forest, grasslands and wetlands, and 35km of coastline.
Owners Matt and Vanessa Dunbabin both have PhDs in plant ecology and plant nutrition.
Following the planting of their vineyard in 2010, around 2000ha of Bangor were burnt in the 2013 bushfires that devastated their local town of Dunalley and surrounding areas. The shed planned for cellar door use was destroyed.
A purpose-built structure on the same site now operates as the Bangor Vineyard Shed.
The vineyard is planted to 1.5ha each of pinot noir and pinot gris, and 1ha of chardonnay. Wines are made under contract by Tas Vintners at Cambridge in southern Tasmania.
LOCATION
GALLERY
Bangor Vineyard Shed
---
Contact with Bangor Vineyard Shed