Archery Summit Winery
United States - Oregon - Dundee Hills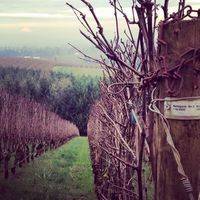 About us
To create world class Pinot Noir that is expressive of its place. Located in the Dundee Hills of Oregon.
Centuries of winemaking have proven that the best way to move grapes from bin to barrel is with the natural force of gravity.
This is particularly true for the delicate, easily damaged Pinot Noir grape. We knew from the start that the building at Archery Summit would be, despite cost, a gravity flow winery. Our winery integrates classic architecture and technically advanced viticulture. Built into the hillside of our estate vineyard, the winery has five floors, two above ground and three below. Grapes are received in small capacity bins, hand-sorted, and de-stemmed on the top floor then travel downward one floor at a time to our fermentation hall, aging caves, and bottling area, all without character damaging pumps.
With its Mediterranean exterior and subterranean caves, the Archery Summit winery, like our wine, is an original expression of old-world aesthetics and new-world savvy.
History
Founded in 1993 by Gary Andrus
Vineyard & Terroir
Dundee Hills and Ribbon Ridge AVAs
LOCATION
GALLERY
Archery Summit Winery
---
Contact with Archery Summit Winery