Amisfield
New Zealand - Otago - Central Otago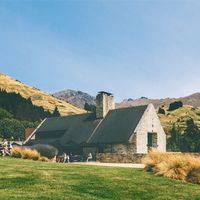 10 Lake Hayes Road, Queenstown , 9351
About us
Amisfield was established in 1988, we are a Central Otago based specialist producer of Pinot Noir and aromatic white wines created from fruit grown on our estate vineyard beneath the Pisa Mountain range in the Cromwell Basin.
History
Our privately owned company's 200ha property, once a prominent high country merino station, is one of the largest single vineyard estates in the Central Otago region. Over 80ha is currently planted with the majority of the vines being over ten years old.
Vineyard & Terroir
Amisfield wines reflect our grape growing and winemaking philosophy underlining faithful expression of site, minimal winemaking intervention and ultimate fruit purity. Stringent yield management practices deliver concentrated fruit flavour, consistency and complexity derived from the range of soils found on the vineyard.
Our state-of-the-art purpose built winery is the focal point of our vineyard and produces 20,000 -30,000 cases of wine annually. Pinot Noir accounts for over 60% of the production with the balance made up of Sauvignon Blanc, Pinot Gris and Riesling.
At The Winery
Our Winery & Bistro is located 15 minutes drive from central Queenstown, overlooking Lake Hayes and back dropped by the Remarkables Mountain range, is the iconic stone building which houses Amisfield's Bistro and Cellar Door.
This distinctive Central Otago winery integrates with the landscape through the combining of local schist, copper roofing and recycled hardwood timber.
Opened in 2005, the award winning Bistro offers a seasonal la carte menu and the "Trust the Chef" signature menu which offers a shared dining experience, with dishes selected by the chef based on fresh produce and ingredients available on the day. The food is an expression of local seasonal ingredients elegantly prepared, and an ultimate complement to the wines.
Press & Awards
Amisfield Pinot Noir 2012
- 95 Points★★★★★ Gourmet Traveller WINE
- 95 ★★★★★ Bob Campbell MW
- 91 Points, Wine Advocate
- 90 Points, Wine Spectator
| | NAME | VINTAGE | TYPE | APPELATION | PRICE (USD) | Award | |
| --- | --- | --- | --- | --- | --- | --- | --- |
| | Amisfield Brut | 2010 | Methode Traditionelle | Central Otago | $55 | | Info |
| | Amisfield Dry Reisling 2013 | 2013 | Riesling | Central Otago | $25 | | Info |
| | Amisfield Pinot Gris 2014 | 2014 | Pinot Gris | Central Otago | $30 | | Info |
| | Amisfield Sauvignon Blanc 2014 | 2014 | Sauvignon Blanc | Central Otago | $25 | | Info |
| | Amisfield Chenin Blanc 2014 | 2014 | Chenin Blanc | Central Otago | $30 | | Info |
| | Amisfield Pinot Noir Rose 2015 | 2015 | Rose | Central Otago | $30 | | Info |
| | Amisfield Pinot Noir 2012 | 2012 | Pinot Noir | Central Otago | $45 | | Info |
| | Amisfield Pinot Noir 2011 | 2011 | Pinot Noir | Central Otago | $55 | | Info |
| | Amisfield RKV Reserve Pinot Noir 2012 | 2012 | Pinot Noir | Central Otago | $120 | | Info |
| | Amisfield Lowburn Terrace Riesling 2012 | 2012 | Riesling | Central Otago | $25 | | Info |
LOCATION
FIND OUR WINES
Importers
Australia
China
Cook Islands
Hong Kong
Japan
New Zealand
Singapore
United Kingdom
United States
Restaurants
New Zealand
Amisfield Bistro
10 Lake Hayes Road
Queenstown, Central Otago, New Zealand
Shops
New Zealand
Amisfield Cellar Door
10 Lake Hayes Road
Queenstown, Central Otago, New Zealand
Amisfield
---
Contact with Amisfield