Allesverloren Wine Estate
South Africa - Province of the Western Cape - Wine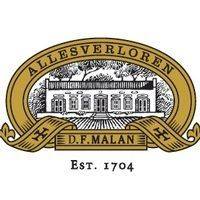 About us
Fifth-generation Malan winemaker Danie joined Allesverloren to hone his skills under the watchful eye of his father Fanie after graduating from Elsenburg Institute for Agricultural Training in 1987. In 1990, Danie went on to become the winemaker, and took the reins of owner from his father in 2003. Danie's red wines are his pride and joy, and he humbly attributes their success to the unique terroir of the Swartland wine region.
"I'm an avid believer in terroir. As a winemaker I think this a unique way of setting your wine apart from the rest. I make full-bodied, robust and huge red wines that keep well. My way of doing this is to keep it simple and straightforward. I am a farmer who makes wine and not a winemaker who farms."
History
In order to purchase tools or attend church, they had to undertake a long and arduous wagon journey along primitive roads to Stellenbosch. It was on their return from one such journey in 1704 that the settlers found their house burnt to the ground and the farm destroyed. Hence the estate's sad name, "Allesverloren", which means "all is lost".
Considering its name, it is ironic that this gem of the Swartland wine region has had such a happy fate. By 1806, Allesverloren's owners had already harvested the estate's first wine grapes and since the estate passed into the hands of the Malan family 140 years ago, Allesverloren has gone from strength to strength. Our estate has increased to 227 hectares and our wines continue to earn international acclaim.
Vineyard & Terroir
The Allesverloren vineyards creep up the imposing Kasteelberg in the scenic Riebeek Valley of the Swartland. Our vineyards range from 170m - 350m above sea level and benefit from a variance in rainfall of 200mm. Cold and wet winters are followed by warm, dry summers where grapes ripen easily with high concentrations of sugar. The prevailing westerly winds, cool summer afternoons and the shadows of the mountain refresh the vines by late afternoon. These various meso-climates provide the ideal conditions for creating big, robust red wines. The soils on this Swartland farm are a mixture of shale and weathered sandstone - a stony structure which is crucial to the particular character of Allesverloren wines. It accounts for the extraordinary depth which vine roots reach here, thus sustaining strong, healthy vines and resulting in deeply coloured, powerful wines with an excellent concentration of fruit.
At The Winery
FOR THE LOVE OF WINE
In 1956, Daniël Francois Malan, grandfather to current winemaker, Danie Malan was the first of the Malan generations to initiate the esteemed Allesverloren trophy haul. He did this by winning the General Smuts Trophy in the SA Championship Young Wine Show for Allesverloren Port for two consecutive years (1956 and 1957). Our wines continue to win international acclaim, but at Allesverloren, we do what we do for the love of wine not the accolades.
LOCATION
Allesverloren Wine Estate
---
Contact with Allesverloren Wine Estate